France's highest court has suspended the controversial ban on the full-body burkini swimsuit, imposed in a southern French town.
The Conseil d'État, France's highest administrative court, heard the challenge brought by a human rights group against the ban on the swimsuit in the Riviera town of Villeneuve-Loubet, near Nice.
The court said in a statement the decree to ban burkinis in Villeneuve-Loubet "seriously, and clearly illegally, breached the fundamental freedoms to come and go, the freedom of beliefs and individual freedom," Reuters reported.
The decision is an interim judgement, with courts in France authorised to issue rulings ahead of arriving at a definitive judgement on a case's underlying legality.
More than 30 towns have followed Villeneuve-Loubet in banning the burkini, which is worn by some devout Muslim women. The Human Rights League of France, which brought the challenge, said the ban contravened the right to freedom of religion.
Friday's ruling could set a precedent for the other bans to be overturned.
French authorities have been criticised for imposing the ban, after photographs were published this week of police fining Muslim women wearing headscarves on beaches.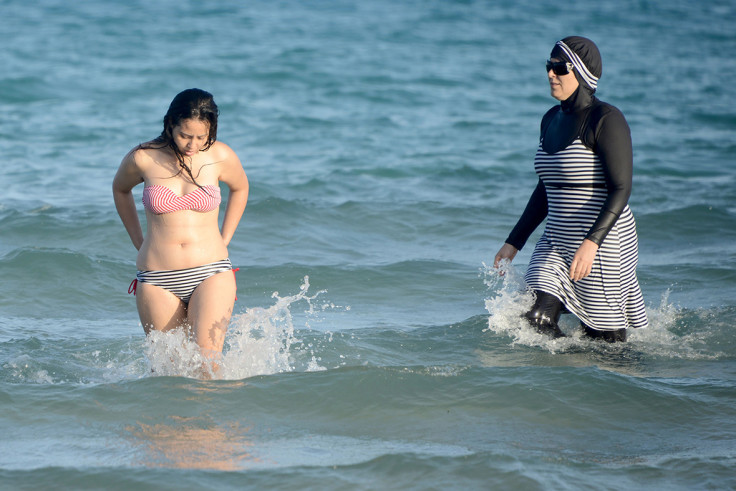 It has sparked fierce debates on freedom of religion, women's rights and the integration of France's Muslim community. The ban was imposed following a series of terror attacks in France by Islamist terrorists.
Opinion polls suggested most of the French public supported the ban, which Muslims claimed targetted them unfairly.
John Dalhuisen, Amnesty International's Europe director welcomed the court's decision.
"By overturning a discriminatory ban that is fuelled by and is fuelling prejudice and intolerance, today's decision has drawn an important line in the sand," he said in a statement.
"French authorities must now drop the pretence that these measures do anything to protect the rights of women. Rather, invasive and discriminatory measures such as these restrict women's choices and are an assault on their freedoms of expression, religion and right to non-discrimination."
"These bans do nothing to increase public safety, but do a lot to promote public humiliation. Not only are they in themselves discriminatory, but as we have seen, the enforcement of these bans leads to abuses and the degrading treatment of Muslim women and girls."