French authorities ask woman wearing sarong to leave public swimming pool amid burkini ban tensions
Mother-of-three wearing sarong to hide body complexes after pregnancy asked to leave pool in latest incident.
The debate over a ban on burkinis, a type of swimsuit worn by some Muslim women, in France has escalated further after a woman was asked to leave a public swimming pool in Vence, in the Alpes-Maritimes earlier this week, because she was wearing a sarong. The burkini swimsuit, which is worn by some devout Muslim women, covers the entire body with the exception of the feet, face and hands.
More than 30 French towns imposed a ban on the symbol of modesty, playing into concerns about religious clothing in the wake of multiple terror attacks by Islamist militants in Paris, Nice and elsewhere in the past 20 months.
The controversial ban, however, sparked debate on the right to freedom of religion, women's rights and the integration of France's Muslim community.
According to Nice Matin newspaper, municipal employees in charge of bathers' security asked the 36-year old mother from Vence to leave the Jean-Maret municipal pool because she wore a sarong on top of her bathing suit. A sarong is a long piece of cloth worn wrapped round the body.
The mother-of-three told Nice Matin, she had decided to wear a lycra sarong on top of a two-piece swimsuit because she was suffering from body complexes following her pregnancies.
Municipal police had to intervene after a row between the mother and the municipal employees ensued after they demanded she leave the pool.
When asked to comment, the mayor of Vence, Loïc Dombreval, insisted that a sarong — even a lycra one — "is not a traditional swimwear" as required by the internal regulations of the sports and leisure centre.
This is the latest incident in what has now been described as the #BurkiniGate. A new survey published on 25 August revealed that two-thirds of French people (64%) are against the wearing of full-body swimsuits known as burkinis.
Former President Nicolas Sarkozy, who entered the debate this week by claiming that wearing the burkini was a "provocative and militant" act, on 25 August called for a nationwide burkini ban.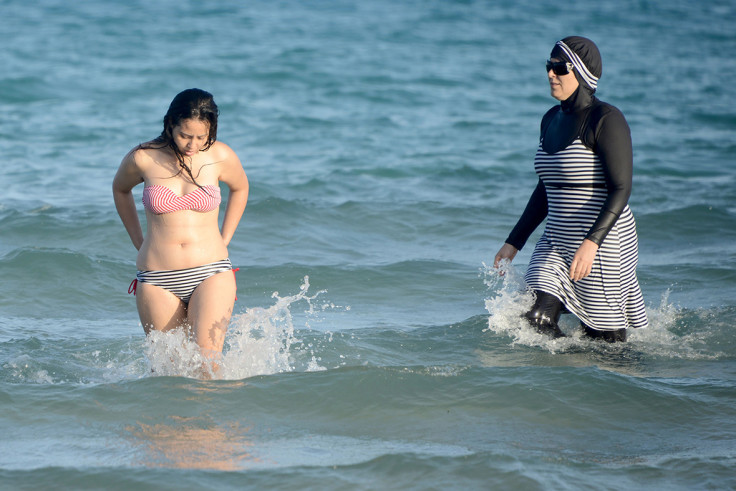 © Copyright IBTimes 2023. All rights reserved.