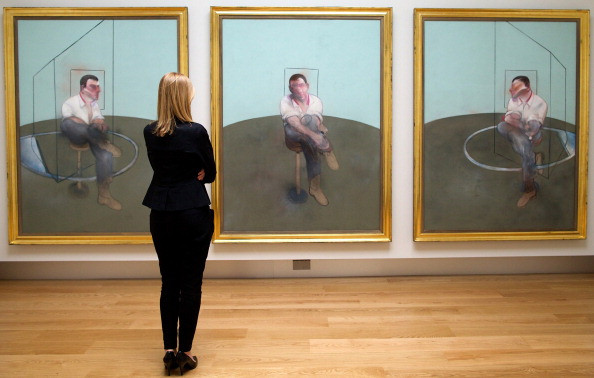 British Artist Francis Bacon's triptych of his long-time companion is poised to sell for about $80 million (£47.5m) at Christie's Post-War and Contemporary Art Evening Sale in New York.
Bacon's Three Studies for a Portrait of John Edwards was created in 1984 and shows his companion in a relaxed pose sitting on a stool with his right leg crossed over his left knee.
The three-panel work aims at celebrating one of the most important relationships in Bacon's life.
John Edwards was the closest friend and companion of the artist from 1976 until Bacon's death in April 1992, and he was named as the sole beneficiary of Bacon's will.
Edwards was the subject of more than twenty of Bacon's paintings; these were painted exclusively from photographs and from memory, never from life.
Edwards oversaw the British artist's archives until his death in 2003.
Three Studies for a Portrait of John Edwards has been exhibited in some of the world's most famous art galleries such as the Tate Britain Gallery in London, the Marlborough Gallery in New York and the Galerie Lelong in Paris.
Christie's defined the work as: "A major work that attempts to capture the essence of the straightforward and forthright character of the artist's young companion."
Brett Gorvy, chairman and international head of Post-War and Contemporary Art, said in a statement: "We are honoured to announce one of the greatest paintings from Francis Bacon's acclaimed Late Period.
"It shows an incredible tenderness and harmony that was prompted by Bacon's paternal relationship with the sitter, and this period of contentment elicited a confidence of style that has been compared to late Matisse."
Christie's sold another Bacon in 2013.
Three Studies of Lucian Freud was bought for $142.4 million (£89m) setting a world record for the most expensive artwork ever sold at auction.
The art sale will be held on Tuesday 13 May at 7:00 pm (12:00am GMT). Other works billed for the auction include Jackson Pollock's Number 5 (Elegant Lady), estimated $15-20m (£9-12m) and Andy Warhol's 'White Marilyn', valued at $12-18m (£7-11m).