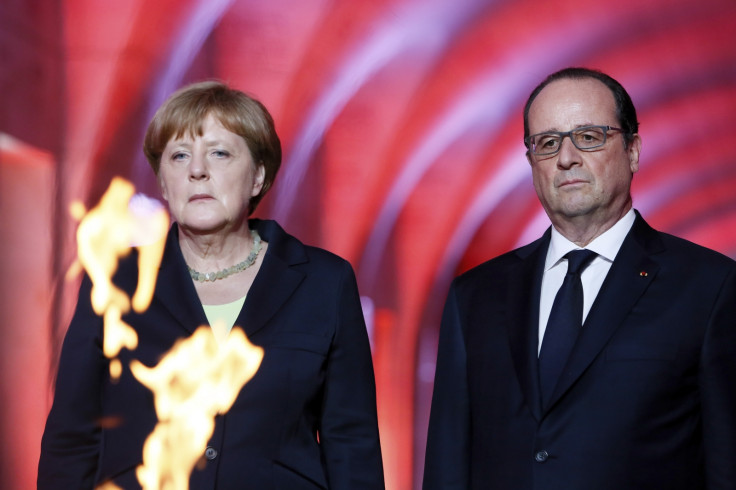 European paymasters French President Francois Hollande and German Chancellor Angela Merkel are set to hold crisis talks in Berlin following UK's vote to exit the European Union. Italy's Prime Minister Matteo Renzi is also expected to join the two leaders.
The French and German leaders are thought to be on the same page when it comes to drafting a strategy on dealing with the UK. The duo held a 30-minute telephone call on Sunday, 26 June to handle the situation.
Both the leaders "want the greatest clarity to avoid any uncertainty," a source close to Hollande told the AFP news agency ahead of their discussions.
The two heads of state also "stressed the need for European initiatives and the need to act quickly on concrete priorities," during their earlier telephone call. Before heading to Berlin, Hollande will also meet the EU President Donald Tusk to discuss Brexit.
The Leave campaign's victory in the 23 June referendum has sent political shockwaves across the European continent leaving bureaucrats, diplomats and politicians scrambling to think about further processes.
As Britain is the first member state to decide to exit the 28-nation bloc, it has put both the UK and the European Union in unchartered territory triggering concerns.
The European authorities are set to kick-start fully-fledged diplomatic talks over this week primarily to prevent a domino effect across the EU amid fervent calls from several states. The European leaders are also expected to begin crisis talks over a two-day period in Brussels, where they are likely to push Britain to seal a quick divorce.