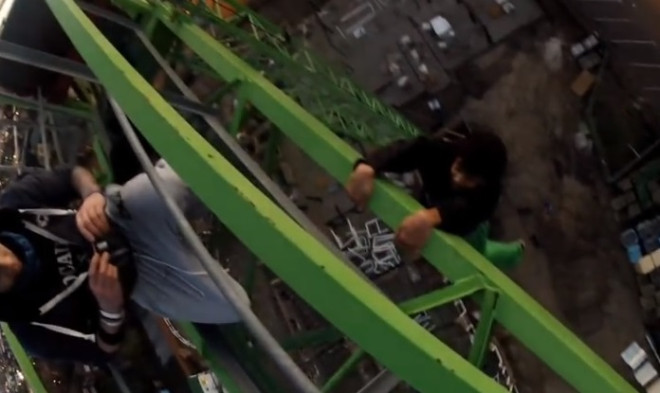 Youngsters who scale tall buildings in extreme "free-climbing" stunts have been warned they risk catastrophic and life-changing injuries.
One of the latest death-defying stunt videos to surface online featured teenagers scaling a crane in south London at dawn without safety gear. They dangle one-handed off the crane arm 100ft off the ground.
Scotland Yard launched an investigation into the incident and local police warned: "Thrillseeking free-running will not be tolerated."
Online, video of the incident quickly racked up thousands of views on YouTube with the group insisting: "Free-running is our life!"
Now a charity for brain injury victims has stepped forward to warn free-climbers that they risk ruining their own lives and the lives of their loved ones - if they survive in the event of a fall.
Mindscape spokesman Luke Griggs told IBTimes UK: "Perhaps if they knew the reality of living with a brain injury, they'd think twice. People have to question whether a quick thrill is worth the risk of a lifetime of living with a brain injury.
"We have to raise awareness of the devastating impact a brain injury can have on families and individuals, in the hope that people may think twice before getting involved in such dangerous activities."
Scotland Yard vowed to "deal robustly" with any free-climb offences. Security tightening measures were being looked at the site of the latest incident in Sutton.
Griggs said: "The effects of brain injury can be devastating and last a lifetime.
"It can mean having to re-learn the most basic life skills that most of us take for granted and can mean a reliance on support from partners, parents or other family members who are suddenly thrust into the role of carer. It affects families and relationships just as much as it can the life of the individual.
"We all think 'it will never happen to me', but the tragic reality is that a brain injury can happen to anyone at any time. The majority of people who sustain brain injuries are victims of illness or accidents but worryingly, many others sustain their injuries as a result of risk-taking behaviour."