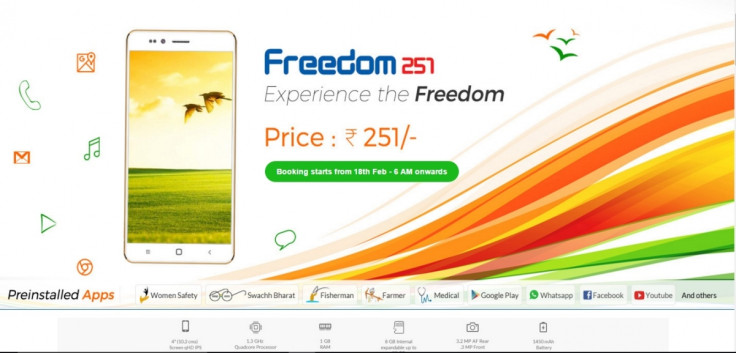 Since the launch of the Freedom 251, billed as world's cheapest smartphone with a selling price of INR251 (£2.56, $3.65), the device has been mired in controversy as to what's really behind its badge. The device has been accused of being a re-branding of a rival manufacturer handset, and criticised for having an operating system that is a crude copy of Apple's iOS.
Review units sent to a string of news outlets have revealed the device has not-so-subtly re-branded Adcom's Ikon 4 – a low-end smartphone model which is currently available for about £40 (Rs 4,000). With the Freedom 251 going on sale for less than a cup of coffee questions are being asked as to how this could be done?
According to reports, the Adcom branding has been partially erased by Ringing Bells, the company behind Freedom 251. At least half a dozen reviewers have indicated that the name of the Adcom has been plastered with a whitener, which easily came off after scrubbing. Adcom's logo on the rear of the device has also been covered by paint depicting the Indian tricolour flag.
In addition to this, numerous news outlets have pointed out the striking similarities between the Freedom 251 and Apple iPhone. From its circular home button to 'slide to open' and similar app icon design, it's uncannily akin to the interface found on iPhones and iPads. As we've seen in the long-ensuing court battles between Samsung and Apple, any hint of potential copyright infringement could see Ringing Bells CEO Mohit Goel landed with a lawsuit.
The mobile industry body, Indian Cellular Association (ICA), has also sent the alarm bells ringing and alerted Telecom Minister Ravi Shankar Prasad. In a letter sent to the federal minister, ICA president Pankaj Mohindroo said: "For your kind information, the bill of material (BOM) value for a product like this when sourced from the cheapest supply chain cost approximately USD 40 (Rs 2,700)."
"And this, when translated into retail price after addition of applicable duties, taxes and with distribution and retail margins would be at least Rs 4,100 while the product is being sold at Rs 251. We are bringing this to your kind notice so that a scenario does not arise in the future, where the nation, the government of India, industry and trade are seen in a poor light."