Freedom 251: Indian company launches world's cheapest smartphone at $3.80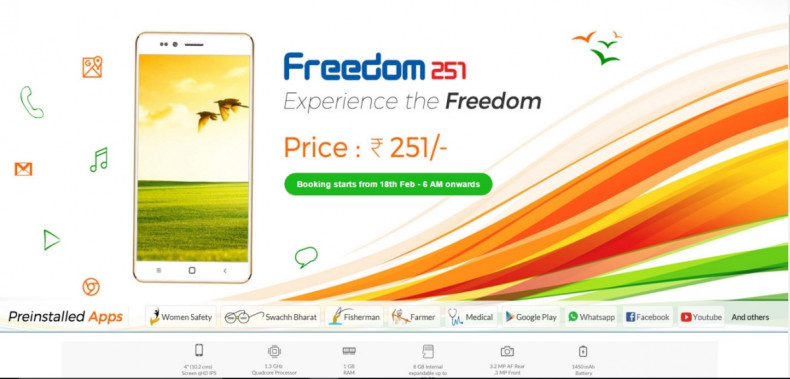 An relatively obscure Indian company, Ringing Bells, has unveiled an Android-run device which is being touted as the world's cheapest smartphone. Its initial launch price has been pegged at Rs251 (£2.50, $3.80), but it is unclear as to how long will the offer continue.
The firm, established in 2015, is set to introduce the 4in smartphone, named Freedom 251, at a glittering event in the Indian capital New Delhi. According to an official announcement, bookings will be accepted for the device on 18 February between 6am and 8am IST (12.30am and 2.30am GMT). The company, which so far has a questionable track record, said that all deliveries will be completed before 30 June 2016. The firm has not revealed any manufacturing specifics or products related to the mobile phone.
IBTimes UK has reached out to the firm and awaiting a response. The phone comes with a generous amount of pre-installed apps of various initiatives undertaken by Indian government including Swachh Bharath, Women Safety, Farmer and Medical. The Indian flag has been noticed on the package of the device, and it is being speculated that the smartphone may have been subsided by Prime Minister Narendra Modi, under the government's flagship "Make in India" campaign.
There has been no official confirmation on the government's involvement as yet. However, the firm has said the phone's launch is in line with Modi's vision of "empowering India to the last person, transforming India's growth story". Previously, the Noida-based company had said that it would set up assembly units in India and develop them into manufacturing units.
Bloggers in the Indian tech market speculate that the £2.50 ($3.80) offer could be an exercise by the firm, which may be applicable only for a limited number of phones.
"This is our flagship model and we think it will bring a revolution in the industry," Bell Brand, a spokesperson for the firm, told the AFP news agency. Ringing Bells earlier launched four smartphone models to compete in the already-crowded low-cost handset market in India.
Here are some of the specifications of the device: It runs a 1450mAh battery and android Lollipop 5.1. With a one-year warranty, the phone is equipped with 3.2MP rear camera and 0.3MP front camera. The phone has a 1GB RAM, 8GB internal memory and is powered by a 1.3GHz Quadcore processor.
India is one of the fastest growing smartphone markets in the world and recently overtook the US to become the second largest. With nearly a billion subscribers, the smartphone industry in India is widely expected to grow further.