Aimed at creating the world's first mobile community, Freedom Ship will be the largest ship ever built at over a mile long and 25 storeys high.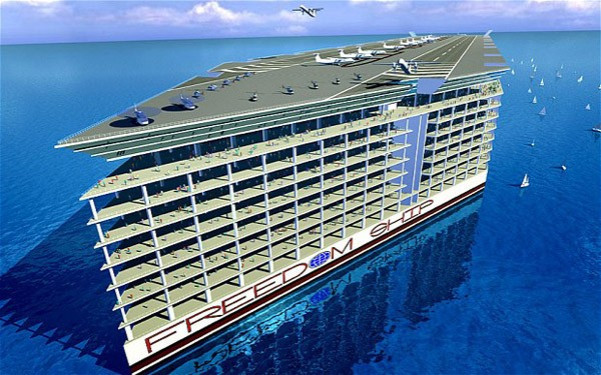 Having been put on hold due to the economic crisis, an ambitious project to build the world's biggest ship and create "a community that offers unique lifestyle opportunities" is back on track and seeking investors.
Freedom Ship will be a vast floating city that will be more than a mile long and 25 storeys high. It will cost $10bn (£6.1bn, €7.4bn) to build and will constantly circumnavigates the globe.
The ship will accommodate 30,000 daily visitors, 10,000 nightly hotel guests, and 20,000 full time crew.
"This will be a very heavily capitalised project and the global economy in the last few years hasn't been too inviting for unproven progressive projects like ours," Roger Gooch, director and vice-president of Freedom Ship International, told the Telegraph.
"In the last six months we've been getting more interest in the project and we are hopeful we will raise the $1bn to begin construction," Gooch added.

Small airport
The 2.7-million tonne ship will be four times the length of the Queen Mary II and will be so large it will not be able to enter any existing port. There is no dockyard in the world big enough to build it.
As well as homes, Freedom Ship would contain hospitals, schools, shops, parks and a small airport.
Despite reports, the company said that the airport would not be able to accommodate aircraft the size of a Boeing 747.
"The largest aircraft this flight deck can accept are turboprop aircraft in the 38 to 40-passenger range," the company said.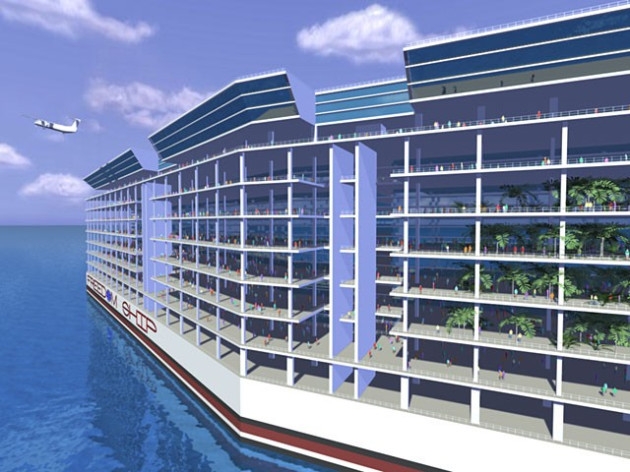 Voyage
The ship will spend 70% of its times moored at locations around the world.
A circumnavigation of the world would take two years. The planned route runs from the east coast of the US to Europe, around the north of Scotland to Scandinavia, back down past France and Portugal into the Mediterranean, returning via the Strait of Gibraltar to pass the length of west Africa, then along the bottom of the Indian Ocean to Australia, southeast Asia, Japan and across to the West Coast of the US.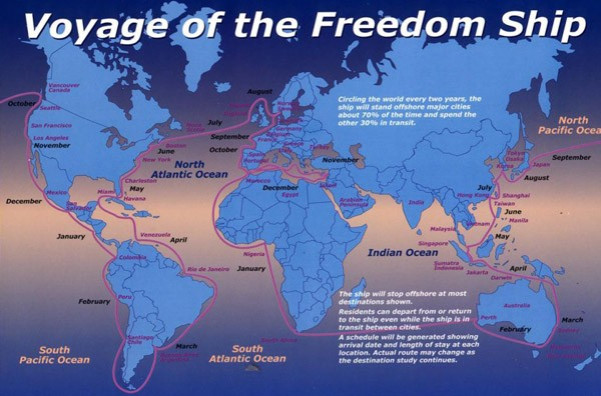 Is Freedom Ship a tax dodge?
On the project's website, the company seeks to clarify a number of misconceptions including the belief that it is a grand design to facilitate tax evasion.
"The Freedom Ship community has not been conceived as a tax haven. While the community itself will levy no taxes, citizens of countries such as the US would not realise any income tax savings by residing in or running businesses in the community, at least at the federal level, since American citizens are taxed on their worldwide income."
However the company does concede that residents of other countries "may realise tax savings by residing in or running businesses in the Freedom Ship Community".