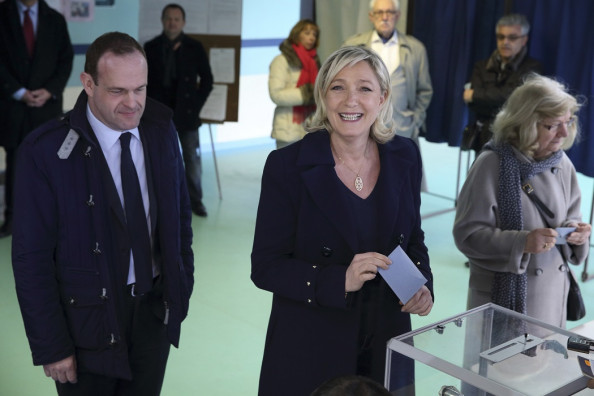 Polls suggest that as many as a quarter of voters in France are considering voting for the National Front in this weekend's local elections.
The far-right group, led by Marine Le Pen, former French presidential candidate and daughter of the party's founder Jean-Marie Le Pen, is said to be confident of securing what political commentators have described as a "breakthrough election" for the extremist, anti-immigration and anti-EU party.
Le Pen secured 17.9% of the national vote in the first round of the presidential elections two years ago, coming third behind Nicolas Sarkozy and the winner Francois Hollande. But early polls suggest she is more popular now, having broadened the appeal of the party, and may be set to capitalise on her wider appeal in this month's local elections.
As recently as 2008 the National Front had been in financial crisis and regarded as on the margins of French politics after Jean-Marie Le Pen was convicted for Holocaust denial and inciting racial hatred.
Success in the local elections would represent a huge turnaround. The two-round local elections are the first chance French voters have had to go to the polls since Francois Hollande's 2012 elections. His socialist Government currently has record unpopularity levels and has performed poorly with voters on the economy, and this is expected to produce votes for other parties out of "rebellion", National Front candidate Francis Mouche told the Financial Times.
"French voters are rebelling. It is a bit of a subterranean revolt that will reveal itself in the municipals [local mayoral elections] and even more so in the Europeans." European elections will be held in France in May.
In Perpignan, where Monsieur Mouche is running, unemployment and crime are high, leading to tensions between long-established French families and the city's north African immigrants. It is in these kinds of areas that the National Front may thrive.
During the local elections, citizens elect the members of the council, (le conseil municipal). Once elected, these members (les conseillers municipaux) choose the Mayor (le Maire) and the deputy Mayors (les Maires adjoints). The number of councillors elected depends on the number of inhabitants. Changes to the electoral rules will also significantly increase the number of women in local governments across France's rural heartlands.
The vote is also set to be a significant one for women. Barring a huge political upset it looks likely that Paris will have its first female mayor. Socialist party candidate Anne Hidalgo is predicted to defeat her centre-right rival, the former ecology minister Nathalie Kosciusko-Morizet.