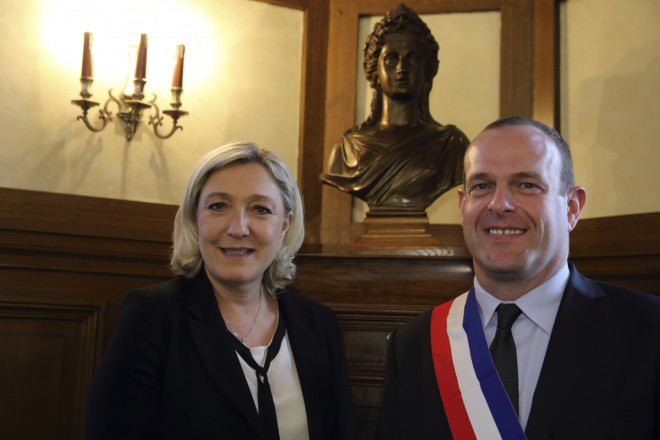 France's far-right Front National (FN) party is poised to make sweeping gains in today's French local elections, making it the third most powerful force in French politics.
The anti-immigrant and anti-EU party, lead by Marine Le Pen, could snatch 15 towns from the ruling Socialist party and centre-right UMP, with analysts expecting it to add at least five to the seats gained outright after last Sunday's first round.
Cities that could fall to the party include Avignon, Perpignan, Béziers, Fréjus, Brignoles and Tarascon.
In an interview with Le Monde, Le Pen said that the era of dominance by the two main parties was over. "We are at year zero of a big patriotic movement, neither right nor left, which is founded on the opposition of the current political class, on the defence of the nation, on the rejection of ultra-capitalism and Europe, that is capable of rising above the old political rifts to ask the real questions," she said.
Asked if she was aiming for the presidency in 2017, she replied: "The cantonals, the presidential election, the legislatives. We have to show we are a force that can win elections."
In some areas, known as triangulaires, a third party threatens to split the vote of one of the two main parties.
Where they have no chance of winning, the Socialists have advised their supporters to vote for whichever non-FN candidate stands the best chance. The party developed the tactic after the 2002 French presidential elections, when the FN beat the Socialists back into third place after the first round of voting, and left-wing voters were advised to cast their ballot for Jacques Chirac of the UMP to block further FN gains.
Corinne Deloy, editor of the Observatoire des Elections en Europe, told the Observer that in her view the two main parties would join forces to block the FN's progress.
"The Front National's score is a follow-on from her score in the last presidential election. It can be explained by a growth in populism but also, in certain towns, by the divisions in the right or the left.
"The joining of forces in the second round should prevent a Front National victory on 30 March."
Of the 330 seats the FN is still contesting, analysts believe it is in a strong position in about half.
Though Le Pen has sought to detoxify the party, and even fielded some ethnic minority candidates, critics have urged voters not to ignore the party's fascist routes.
Philosopher Bernard-Henri Levy described them as "far-right" louts after details of the backgrounds of party candidates was published last week.