French National Front is holding its summer university conference in Marseille on 5 September, with the focus on the feud between the party's founder Jean-Marie Le Pen, recently expelled from the party, and his daughter Marine Le Pen, the current leader. The 87-year-old party patriarch is expected to hold a side event alongside the annual party rally in Marseilles. He will also take part in a lunch debate called by his supporters.
The dysfunctional family row between father and daughter came to a head when Marine Le Pen moved to have her father expelled from the party, the third-largest political party in France, to make it look less anti-Semitic and racist, improving her chances of winning the 2017 presidential election. Jean-Marie Le Pen faces charges of denying crimes against humanity for saying the gas chambers of the Holocaust were "a detail of World War II."
Marine Le Pen is standing in regional elections in December, as head of the new expanded region of Nord-Pas-de-Calais-Picardie, which takes in a section of north-eastern France, including several constituencies where the far right's share of the vote has risen in recent years. An OpinionWay poll in June predicted she would beat Socialist and traditional rightwing rivals to win the region.
Le Pen won 17.9% of the vote in the last presidential elections in 2012, with the Front National topping the poll in the European elections last year, claiming the title "first party of France". After municipal elections last year, it now has 11 mayors and over 1,500 municipal councillors.
Family feud
The long-running row between father and daughter has lasted many months and Le Pen senior attacked his daughter by saying of his expulsion from the FN: "She was in command of the firing squad over the telephone," he said.
"She didn't want to take part because it's wicked to kill your papa, so she didn't kill her father directly, she had him killed by her henchmen."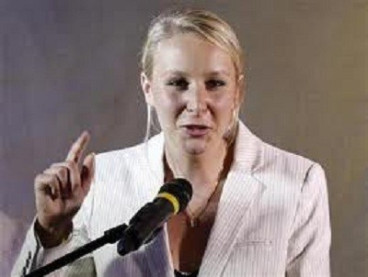 Speaking to France's Europe 1 radio, Le Pen said: "I was hoping that the president of the National Front would get married as quickly as possible so as to change her name. Because I'm ashamed that she has the same surname as me."
Asked if he would still be supporting his daughter in the presidential elections, Mr Le Pen answered: "Not for the moment."
France's youngest-ever MP, 25-year-old Marion Marechal-Le Pen is the third generation of the far-right political dynasty, and said she was against the expulsion from the party of her grandfather. "I was against the exclusion of my grandfather. It opens the door to new problems." However, Marechal-Le Pen is a staunch supporter of her aunt: "Yes, she can win. I don't say that she will win but she can win. The economy might improve, The left could recover.
"The left and centre-right might form an alliance. But, as things stand, yes, there could be a President Marine Le Pen in 2017," she told the Independent.
Nonna Mayer, an expert on the far right and professor at Paris's Institute of Political Studies, said: "Those most inclined to vote Le Pen are people just above the threshold of precariousness: they have a job, some skills, may own their house or are paying for it, and are afraid to lose what they worked hard to earn – afraid to fall down the social ladder."
The nationalist, anti-immigration, anti-Europe party is riding on the ticket of abandoning the euro, restoring the death penalty and curbing immigration.
Marine Le Pen has called for an end to all immigration to France, legal and illegal. In a speech on 29 August, aimed at rallying her Front National (FN) ahead of regional elections, she said in an AFP report: "They don't tell you this but the immigration situation in France is totally out of control," Le Pen said at a meeting to mark the start of France's new political season. "My aim is clear: to stop immigration both legal and illegal."
The FN's programme officially calls for immigration to be limited to 10,000 people per year but Le Pen declared: "We need national borders for France."
She also called for "all foreigners on file for links with radical Islamist movements to be deported", adding that "radical mosques" should be closed and their imams be thrown out of the country if they are foreigners.