Front National founder Jean-Marie Le Pen to challenge expulsion from far-right party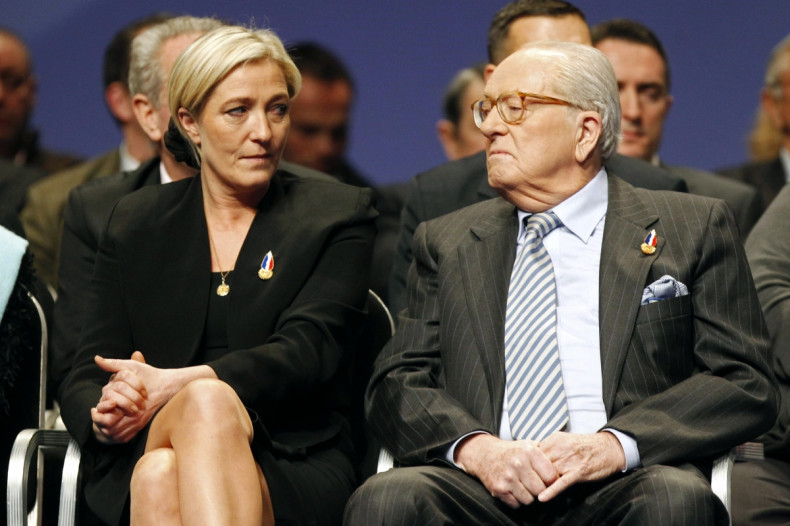 National Front founder Jean-Marie Le Pen is to challenge his expulsion from the far-right party for making anti-Semitic remarks. Its executive committee voted to exclude the 87-year-old from the party, which is led by his daughter, Marine Le Pen. She is attempting to detoxify the party in her bid to become French president in 2017 and detach it from its neo-Nazi roots.
"I haven't received notification of the decision yet. When I do, I will contest it, as I have already contested it," Jean-Marie said on RTL Radio on 21 August. "I am the National Front, I am at home with the National Front." He said he had "received many messages of support from people who believe the party has killed off all sense of patriotism".
The family feud at the heart of the party's attempt to rebrand itself erupted in April 2014 when Jean Marie refused to apologise for describing the Nazi gas chambers, in which millions of Jews were killed during Second World War, as a "detail of history."
A judge earlier in 2015 ruled illegal Front National's attempts to expel Jean-Marie as correct procedure had not been followed and said the decision should be reviewed by the party's executive committee, which confirmed the expulsion.
Following the committee hearing on 20 August, he launched an attack on his daughter, who was not present. "She was in command of the firing squad over the telephone," he said. "She didn't want to take part because it's wicked to kill your papa, so she didn't kill her father directly, she had him killed by her henchmen."
Polls indicate Marine is on course to make the second round of the French presidential elections after campaigning on an anti-immigrant, anti-EU platform. The party was founded by ex-paratrooper Jean-Marie in 1972. He still holds a seat on the European Parliament, and as a regional councillor in the south of France.