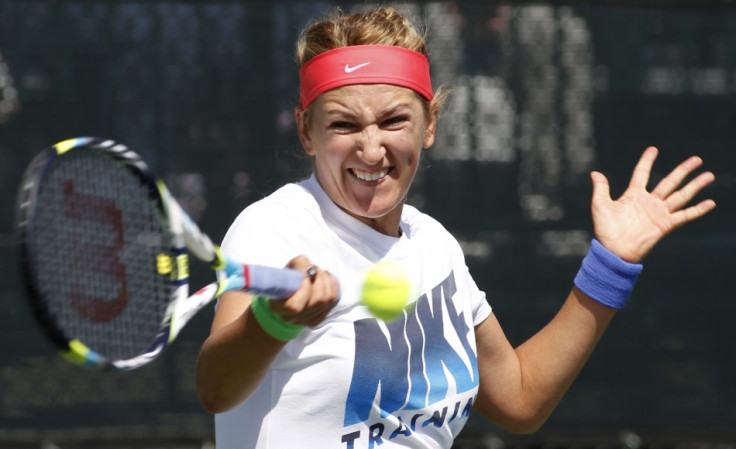 The world's number one women's singles tennis player, Victoria Azarenka, has been knocked out of the 2012 French Open after a shocking straight set defeat to 16th seed Dominika Cibulkova. The Bulgarian top ranked player lost 2-6, 6-7 (4-7).
The pair were on court at a windy Suzanne Lenglen arena and for a while it seemed like things were going according to plan for Azarenka. The Bulgarian broke her opponent's serve almost immediately. However, the first signs of an upset were not far off. The lower-ranked player fought back instantly to take back her lost service game and eke out a 2-1 lead in the first set. From then on, the Slovakian was in absolute control, sweeping to the first set.
A furious Azarenka left the spectators in no doubt about her disgust at the result and smashed her racquet against the ground on more than one occasion in a second set that although tighter was still easily her conqueror's.
The second set began in much the same way as the first, with the Bulgarian hinting at a comeback by going 2-0 up. unfortunately, the result seemed almost entirely predictable as Cibulkova once again broke back immediately and then went on a four-game winning spree to rocket 4-2 into the lead.
However, the nerves began to tell and Cibulkova served up a double fault at the wrong time, allowing her opponent to break back once, and again, to force the tie-break. The 16th seed did eventually close the match out, after moving into a 4-2 lead in the tie-break and winning it 7-4.
Azarenka has not had a comfortable French Open this year and was stretched in her first round match as well, against Alberta Brianti, who took the top seed to three sets before losing 6-7 (6-8), 6-4, 6-2. Azarenka's next two games, against Dinah Pfizenmaier (6-1, 6-1) and Aleksandra Wozniak (6-2, 6-4) were more straightforward. The defeat to Cibulkova, therefore, comes as a surprise.
Cibulkova will now play either Sloane Stephens of the US or Samantha Stosur of Australia in the next round.