French Open men's singles defending champion Rafael Nadal has launched a stinging attack on the Grand Slam's organisers. The 26-year-old Spaniard, who is on track for an eighth Roland Garros crown in nine years, faces Italian Fabio Fognini in a third round match scheduled for 1.30pm BST.
However, the No 3 seed at this year's tournament feels the organisers have burdened him with an unnecessarily hectic schedule, which has seen considerable re-working as a result of rain interruptions. The revised fixtures now leave Nadal needing six wins in 10 days to lift the 2013 French Open title.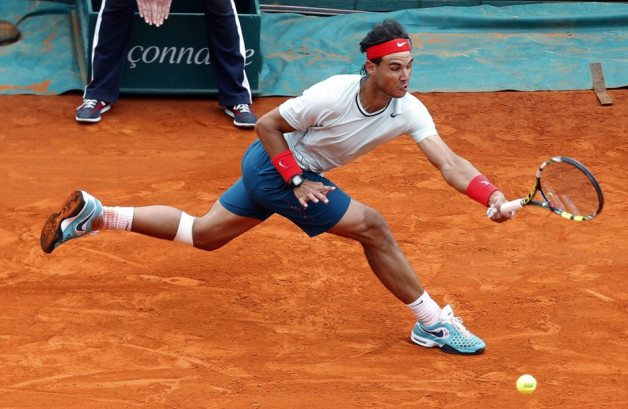 "I think everybody knows in this room that the schedule of yesterday was wrong. That's the real thing. I don't know if the director of the tournament, supervisors, guys who take the positions, they take a bad position two days ago, because when you make the schedule at 7pm, not 11am in the morning, you know which weather predictions you have for the next days," Nadal explained to journalists present, after beating Slovakian Martin Klizan in the second round.
Rain Plays Spoilsport
The Spaniard's discontent is perhaps understandable. He was originally scheduled to play Klizan on Thursday, the same day as Fognini played his second round match against the Czech Republic's Lukas Rosol.
Unfortunately, rain interrupted both games, forcing them to be carried over to Friday. However, Fognini was scheduled to play the second match on Court Three, while Nadal had to wait for two full matches to be completed.
"I was playing three hours while my opponent was in the locker room watching TV ... I cannot play third when my opponent has played second," the Spaniard fumed.
Nadal also questioned scheduling a men's singles match before his own tie. His point being that in Grand Slams men play up to five sets, while women play only three. Logically therefore, a men's match takes longer to be completed.
And to complete a long list of charges against the organisers, Nadal expressed disbelief at the schedule being arranged to suit Rosol's matches; the Czech was due to play a doubles match later in the day and was therefore given an earlier time slot.
"I am sorry, but that's a joke," Nadal said, "Why do you want to protect the player who has to play doubles? So I'm going to (sign up for) the doubles draw then, and I have the priority to play?"
Novak Djokovic and Roger Federer March On
Meanwhile, amid all the drama surrounding Nadal, No 2 seed Roger Federer eased into the fourth round, with a 6-3, 6-4, 7-5 win over Frenchman Julien Benneteau [30]. The Swiss master will face another Frenchman, 15th seeded Gilles Simon in his next match.
And World No 1 Novak Djokovic was similarly untroubled in his second round tie, sailing past Guido Pella of Argentina 6-2, 6-0, 6-2. The Serbian faces Bulgaria's Grigor Dimitrov, the 26th seed, in his third round tie.
Where to Watch Live
Nadal's match against Fognini is scheduled as the third match of the day on Court Philippe Chartier. Djokovic's match against Dimitrov is the last of the day on the same court.
Live coverage of those two, as well as women's singles No 1 Victoria Azarenka and No 2 Maria Sharapova, will be available on ITV 4 and ITV 4 HD, as well as British Eurosport. Radio commentary is on BBC Radio 5 live and 5 live sports extra.