French Open 2017: Rafael Nadal hopes he won't lose to Dominic Thiem in semi-final clash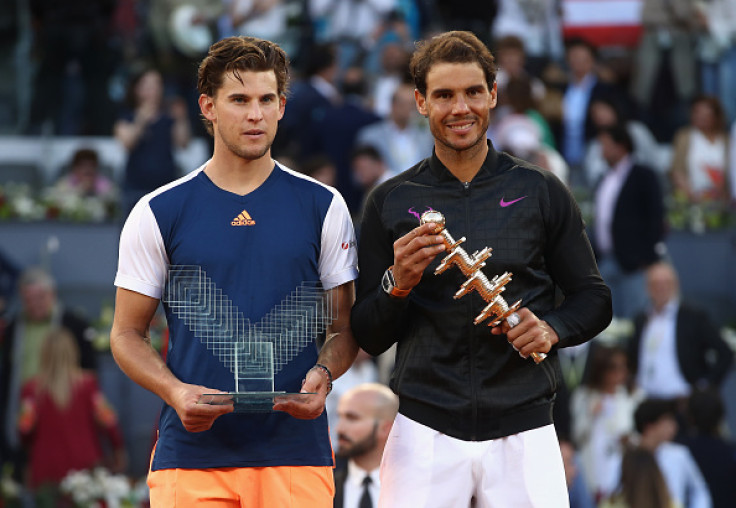 KEY POINTS
Thiem is the only player to defeat Nadal on clay this year.
Nadal: 'Maybe I won't be up to the challenge. We'll see.'
Rafael Nadal has refused to underestimate Dominic Thiem ahead of their French Open semi-final clash, despite being the heavy favourite for the Grand Slam.
Nadal advanced to the last four in Paris after being a set and 2-0 up before his quarter-final opponent Pablo Carreño Busta had to retire due to an abdominal injury.
The win makes the Spaniard's clay-court record in 2017 a phenomenal 22-1 with many believing Nadal winning a record 10th French Open title is inevitable.
However, the 14-time Grand Slam champion's semi-final opponent is Thiem, fresh off a dominant victory against Novak Djokovic and notably the only player to beat Nadal on clay this season.
While Nadal emerged victorious against the Austrian in the Barcelona and Madrid finals, the 31-year-old is preparing for arguably his toughest challenge yet.
"Thiem is a tough player," Nadal said, as quoted on Fox Sports Asia. "I hope that I won't lose. I won in Barcelona and Madrid and I lost to him in Rome. I've played three times with Dominic [this year]."
"We can have a look at the statistics. We can talk about statistics for hours, but what is important is to consider the match. Either you play well and you advance to the next round, or you lose and you're out. If I play well, I hope that I will be able to book my spot in the final. If I don't play well, I will be out of the tournament."
While Nadal will be a favourite for the encounter, he believes anything can happen on any given day, admitting that there is a possibility that he may not be up to the challenge.
"I'd like to thank all those who say that I'm a favourite, but I'm on the court," he added. "What matters is to play well. So what is being said is positive, but maybe I won't be up to the challenge. We'll see. On D-Day, we'll see if I can set my game up."
"I will make sure that I play my best and produce my best tennis. Beyond all that, as I said at the start of the tournament, everything that is being said and written...of course you have a job to do, but my job is to play tennis.
"I have been on tour for many years and I know that each day there is a different match and there is a different opponent."
Nadal takes on Thiem on Friday (9 June).
© Copyright IBTimes 2023. All rights reserved.