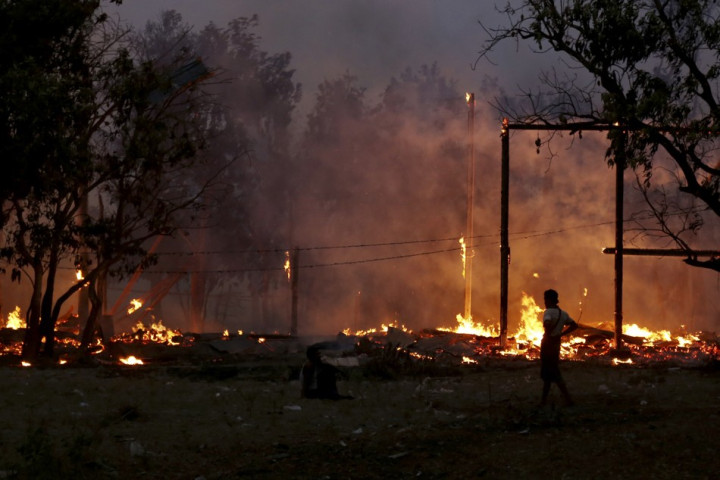 Myanmar authorities have managed to restore order in central Myanmar after a fresh eruption of sectarian violence.
Buddhist mobs attacked mosques and torched homes, injuring 10 people and killing at least one Muslim man in the small town of Okkan and neighbouring villages 100km (60 miles) north of the capital Yangon.
Police arrested 18 people on charges of theft, assault and arson.
"They are safe now and can go back to their homes," Thet Lwin, deputy police commissioner of Yangon, said.
Violence started when a crowd attacked a local mosque in Mie Laung Sakhan village, witnesses claimed, and police were not there to protect them.
"About 200 to 300 people arrived in our village on motorcycles and destroyed the mosque. All the villagers ran away. We were scared and didn't resist. They destroyed until they were satisfied," Soe Myint, 48, said.
The village mosque was damaged and 10 homes burnt down.
In March sectarian violence in the central town of Meikhtila resulted in the deaths of 33 people and displacement of 13,000 Muslims.
IBTimes UK first revealed that Buddhist monk Saydaw Wirathu, the self-styled "Burmese bin Laden", was behind sectarian violence in the area.
Wirathu, who has led numerous campaigns against Muslims in Burma and who was arrested in 2003 for distributing anti-Muslim literature, urged Burmese people in a controversial YouTube video "to join the 969 Buddhist nationalist campaign".
"Do business or interact with only our kind: same race and same faith," he instructed followers.
He played an active role in stirring tensions in a Yangon suburb in February by spreading rumours that a local school was being developed into a mosque, according to the Democratic Voice of Burma. A mob of 300 Buddhists assaulted the school and Muslim-owned businesses and shops in the city.
The monk said that his militancy was "vital to counter aggressive expansion by Muslims".
He has also been implicated in religious clashes in Mandalay, where a dozen people died, in several local reports.