Alarming splits appear to be opening up between the US and UK, and other Western leaders over how to deal with the growing crisis in Ukraine.
As Germany announced that further peace talks will probably be held with Russia, Ukraine and France in Belarus on Wednesday, Chancellor Angela Merkel rebuffed suggestions from the US that giving more weapons to Ukraine was the solution.
At a security conference in Munich, Republican US Senator John McCain said: "The Ukrainians are being slaughtered and we're sending them blankets and meals. Blankets don't do well against Russian tanks."
However, Merkel rejected the notion that more weapons were the solution to a conflict which has already claimed over 5,000 lives and appears in danger of spiraling beyond control.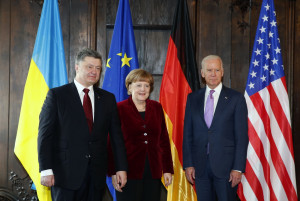 "I understand the debate," said Merkel, "but I believe that more weapons will not lead to the progress Ukraine needs. I really doubt that."
French leader François Hollande gave a stark warning of what might happen if the diplomatic efforts to find a lasting solution to the conflict fail.
"If we don't manage to find not just a compromise but a lasting peace agreement, we know perfectly well what the scenario will be. It has a name, it's called war," said Hollande.
Alongside the French, Germany has been working hard to find a diplomatic solution. Following a telephone call between the leaders of Germany, Russia, France and Ukraine it was announced there may be further peace talks in the capital of Belarus, Minsk, as early as Wednesday.
Steffen Seibert, Germany's government spokesperson, said in a statement: "In [the call] they worked further on a package of measures in the context of their efforts on a comprehensive settlement of the conflict in eastern Ukraine."
Seibert added: "This work will be continued tomorrow in Berlin with the goal of holding a 'Normandy Format' summit on Wednesday in Minsk."
Russian President Putin was more cautious about whether the talks will take place, saying: "If we manage to agree our positions by then."
Foreign secretary Phillip Hammond appeared to align Britain with the US this morning, telling Sky's Murnaghan programme the current policy of not sending Ukraine weapons was under review.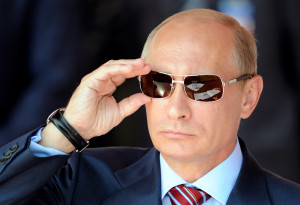 "Britain's position is that at the moment we do not think that supplying arms is the right thing to do but obviously if the situation on the ground changes we'll keep that position under review," said Hammond, who accused Putin of acting like a tyrant.
"This man has sent troops across an international border and occupied another country's territory in the 21st century acting like some mid-20th century tyrant," said Hammond.
"Civilised nations do not behave like that. We do not see any reason to tolerate this kind of outrageous and outdated behaviour from the Kremlin."