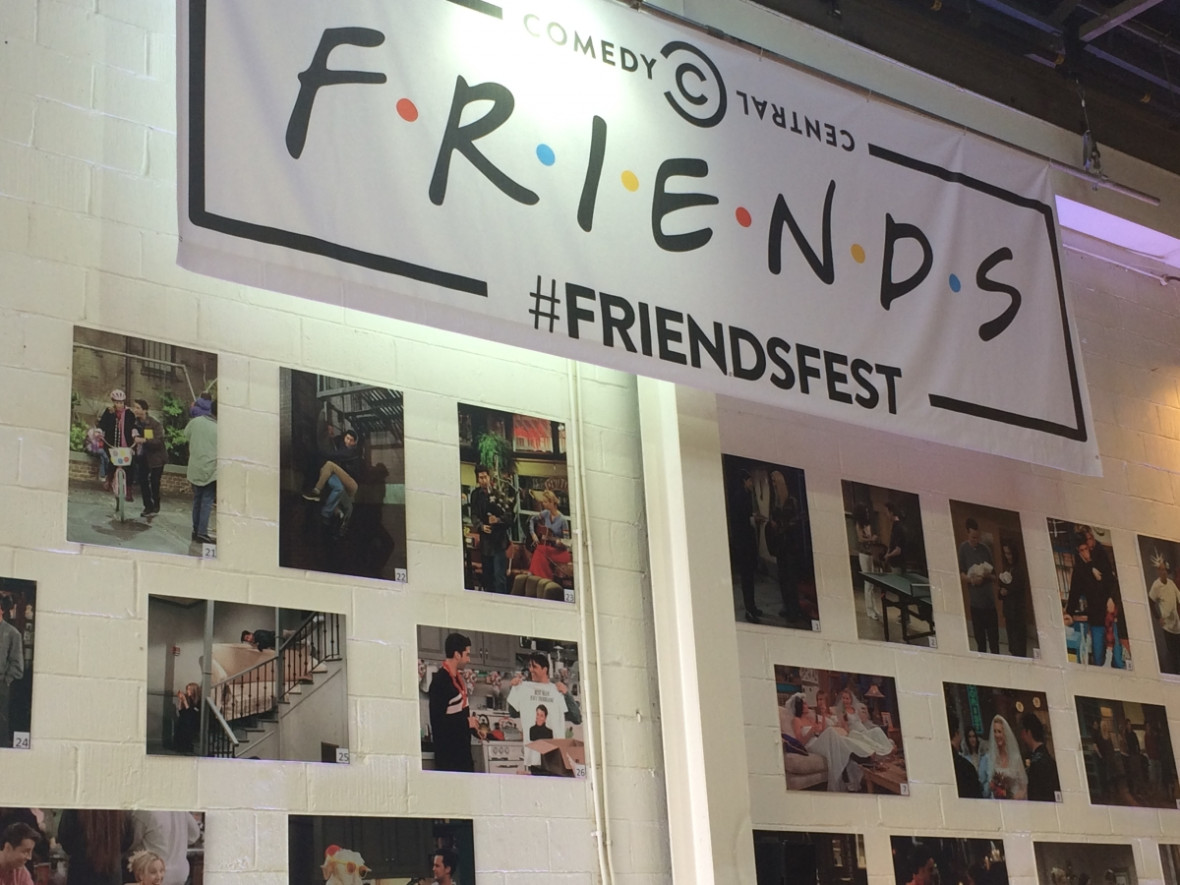 It has been 11 years since Friends left our TV screens but thanks to a pop-up in London, it is like the iconic sitcom never left. Visitors will be completely in awe at the true-to-life recreation of Monica's famous apartment and the Central Perk coffee shop, where Ross Gellar, Rachel Green, Monica Gellar, Phoebe Buffay, Chandler Bing and Joey Tribbiani spent their mornings.
Hosted at The Boiler Room in Brick Lane, east London, the pop-up celebrates the show's 21st birthday and turned Jennifer Aniston, Courteney Cox, Lisa Kudrow, David Schwimmer, Matthew Perry and Matt LeBlanc into household names. The series, which started in September 1994 and is currently aired on Comedy Central, became an instant hit and was immersed into pop culture, with fans forever reciting Chandler's witty one-liners and copying Rachel's much sought after haircut.
IBTimes UK visited the recreated set on 16 September and had the pleasure of sharing the Central Perk sofa with the one and only James Michael Tyler, who played Gunther, the barista who spent a decade lusting after Rachel. In tribute to his memorable character, who had a recurring role over the show's 10 years, the actor has re-dyed his hair the shocking shade of blond he was recognised for. Fan trivia: Remember "the one where" Rachel described his hair as "brighter than the sun?" Oh, the memories.
A Comedy Central spokesman told us Tyler was blown away by the intricate detailing in the recreated set and could not believe how accurate the designers were able to replicate items. Expressing his feelings on the pop-up, the 53-year-old said: "It's amazing to think that Friends is still as popular today as it was 21 years ago when we first started. Comedy Central's FriendsFest brings together some of the most iconic sets and props from the show and I'm certain fans will love [them]. I feel extremely nostalgic being back in Monica's apartment and Central Perk."
Perhaps the most impressive draw of the pop-up are the props that have been imported over from the original set, with visitors able to get a glimpse at the actual 18-page ("front and back") letter that Rachel wrote to Ross in season four, pouring her heart out after their infamous "we were on a break" saga. There is also Ross's Science Boy comic book, which resurfaced from his childhood, and the pretty terrifying troll, aka the Gellar Cup, which the six friends try to win in a game of football. Visitors will also be able to perform renditions of Phoebe's Smelly Cat on stage and pose with a replica of the fountain and colourful umbrellas the cast use in the show's opening sequence.
If you are a true Friends fan, then this is not for the faint-hearted – prepare to be completely bowled over with emotions and fond memories. FriendsFest will run from 16-20 September. Happy 21st birthday, Friends, and please make that reunion happen. Get a glimpse inside FriendsFest: