UK industrial design firm Fripp Design and Research has pioneered a new approach to 3D printing silicone that can potentially revolutionise the medical industry and enable patients to receive implants that perfectly fit their bodies.
3D printing is sweeping the medical industry in great strides and there are already many 3D-printed implants made out of materials like titanium and a type of plastic called acrylate polymer. However, it is not currently possible to 3D print silicone implants, and women needing breast implants have to pick from six standardised off-the-shelf silicone breast implant sizes.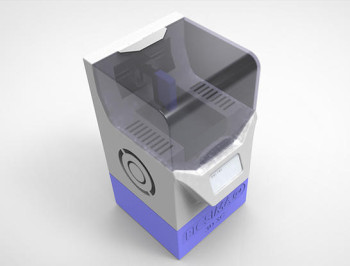 The new method involves adding the chemical process vulcanisation to the Picsima 3D printing system, so that the silicone printed out is much stronger and able to be sterilised to be safely used in the human body as implants.
"There is a polymer created by Stratasys called Tango which is capable of offering different types of hardness and softness, but unfortunately, this material breaks at high temperatures of over 85 degrees Celsius and goes brittle at 0 degrees Celsius," Fripp Design and Research's director Steve Roberts told IBTimes UK.
"We have discovered how to create three-dimensional geometry from two parts Room Temperature Vulcanisation (RTV) medical grade silicone. You can use any type of medical grade silicone with Picsima, and the geometry we create is self-supporting."
How silicone breast implants are currently made

Currently silicone implants used in reconstructive surgery and the plastic surgery industry have to be made using silicone injection moulding. For a patient that needs an ear or a nose to be reconstructed, it takes between six to eight weeks to create the silicone prosthesis before the surgeon can implant it.
In contrast, from receiving the medical data to delivering the implant to the surgeon using the Picsima 3D printing technology, it only takes 72 hours.
"We have previously made the news for our innovations in 3D printing in full-colour starch, but the maxillofacial prosthetists said that all implants need to be made from silicone," said Roberts.
"By using the same concept of vulcanisation that Mr Dunlop used to strengthen tires, we can make it possible to have different levels of hardness in breast implants, meaning that the implants wouldn't drop."
Revolutionising the medical industry
By being able to 3D print items that don't require support material, that have different layers of thickness, Roberts says that the Picsima system could be used to 3D print a bladder and potentially other parts of the body, which would revolutionise keyhole surgery.
Fripp Design and Research has successfully printed customised breast implants from CT scan data. The firm has received funding from Innovate UK, as well as a phase one grant from the European Commission's Horizon 2020 programme.
Roberts is hopeful that his firm will receive the phase two grant in September 2015, which would be worth up to €2m ($2.2m, £1.4m). If the firm receives the grant, it will be able to develop and trial the 3D printed silicone breast implants by mid-2016, with a view to commercialise the product between mid-2017 to early 2018.
He said: "Our technology is currently patent-pending and the European patent office says that our 3D printing technique is novel and inventive. Nobody can do what we are doing – we've proved it's possible to make silicone implants with complex geometry."