In the wake of multiple terror attacks in the heart of London, the city's mayor Sadiq Khan has warned that incoming budget cuts being forced through by the Conservative government could result in the loss of up to 4,000 officers working on the front lines of policing.
The government, demanding that £400m in cuts be made by 2021, is asking for additional savings at a time of "unprecedented threat", Khan said in a letter to UK Home Secretary Amber Rudd, which was leaked to The Sunday Times. Public safety could soon be at risk, he said.
"Without urgent government action, it is inevitable that in the next year a process of significant and sustained reduction in officer head count will have to begin," he wrote. "This will impact on the safety of Londoners. The front line is now at risk."
The current number of police officers is approximately 32,000 but this could be slashed by up to 4,000.
The Sunday Times reported Khan had stressed to Rudd that London was facing "extraordinary circumstances" due to terror threats, knife crime and murder.
"Crime in our city is increasing, in volume, complexity and harm," he wrote. "Terrorism remains a constant and evolving threat to our capital and its people. Assistant Commissioner Mark Rowley has described the current tempo of counter-terror activity as 'unprecedented.'"
It's far from the first time that the mayor has criticised the Conservative government – perhaps unsurprising as he is a key member of the rival Labour party. But few would seek to downplay the events of the past year – with Isis-inspired attacks taking many lives.
In late March 2017 there was an attack in Westminster. In early June, multiple assailants targeted locations including London Bridge and Borough Market – two popular tourist areas. The same month, a van was driven into pedestrians in Finsbury Park near a mosque.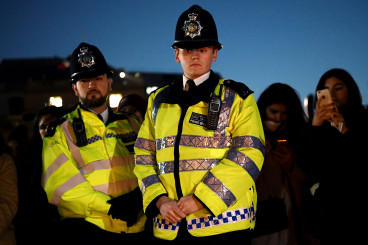 Other cities - most recently Barcelona in Spain - have been impacted by similar attacks.
Responding in June, Khan said: "Officers in our communities act as the eyes and ears of the security services, providing the intelligence and information that allows us to disrupt attempted terrorist attacks.
"Cuts on this scale would make it harder to foil future terrorist attacks. As the mayor of London I'm simply not willing to stand by and let that happen."
Later that month, it emerged that Khan was planning to shut down roughly half of London's 73 police station front counters. Again, he blamed the changes on dramatic police cuts.
"The reality is this - if the government proceeds with its cuts we will have to close half the police stations in London, which could lead to each borough having only one 24-hour, seven-days-a-week, police station open to the public," he said. "The busiest boroughs may have another one."
According to the Sunday Times (20 August) a spokesperson at the UK Home Office claimed that London had "more money and more officers [...] than anywhere else in the country."
The current threat level for international terrorism in the UK is 'Severe.'
In an op-ed for The Guardian in June 2017, Paul Herdman, a former police offer, exposed the dangers of policing cuts and painted worrying picture for the future of the UK.
"This recklessness cannot be sustained. Cuts not only have consequences, they have potentially serious consequences. Why would anyone, let alone the government of the day, gamble with the safety of men, women and children of this country?"