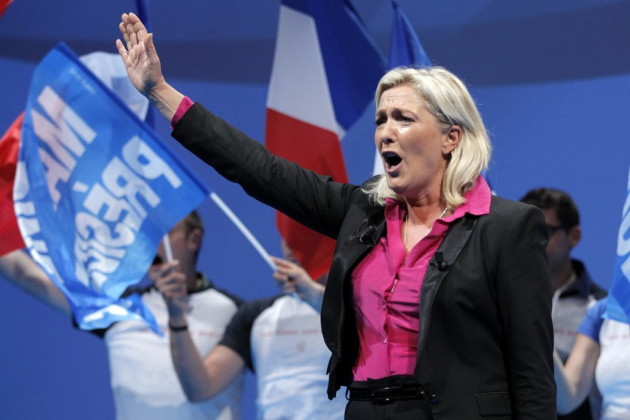 A French politician who left Nicolas Sarkozy's UMP party for the far-right Front National (FN) has backtracked claiming he was shocked to see candidates sporting swastika tattoos at party meetings.
Marine Le Pen's FN said it was to sue Arnaud Cléré, a 34-year-old council candidate for the northern village of Gamaches, over his remarks which the right-wing party described as a political manoeuvre to discredit it.
Cléré was forced to leave the UMP in May, after he breached the party's directions, striking an alliance with an FN affiliate ahead of council elections in 3,000-inhabitant Gamaches, which is near Dieppe.
"It was a mistake to think I could combine two groups like that, the UMP and FN," Cléré told AFP after sending a letter to UMP leader Jean-François Cope, asking to be readmitted to his party.
"It shocked me that at FN's meetings one can still hear xenophobic and homophobic ideas and remarks."
In a tweet announcing his decision, Cléré described FN as "sectarian and dictatorial" political movement.
Since taking the reins of the party from her father in 2011, Le Pen has been working hard to clean up FN's longstanding image of a racist and anti-Semitic movement.
Cléré said he realised the party had not changed upon seeing Nazi symbols tattooed on the arms of several FN candidates at a meeting in the northern city of Hénin-Beaumont, ahead of local elections in October.
"That shocked me," Cléré said. "Listening to Marine Le Pen I thought that these kind of people no longer had a place in FN but unfortunately I saw them with my own eyes."
Cléré's remarks were swiftly seized upon by Cope: the UMP has seen its electoral base eroded by a surge in support for FN.
"The right and the extreme-right are not the same thing," Cope told Europe 1.
Le Pen denied Cléré's claims, saying the party was ready to provide photos of all the 130 FN candidates who attended the Hénin-Beaumont meeting to show that no one sported swastikas.
The 45-year-old lawyer said the revelations had been orchestrated in advance by Cope, and threatened to sue the local politician and AFP for defamation.
In October the FN took the lead in an opinion poll for the first time since it was founded in 1973, scoring 24% of preferences.