Front National's Marine Le Pen says France could leave the EU if she wins election
Le Pen promises to renegotiate the terms of France's membership or hold a referendum for 'Frexit'.
Marine Le Pen, the leader of the French far-right political party Front National (FN) has set out the party's aims for France in a convention speech on Sunday (5 February).
During her speech to the party's faithful, Le Pen railed against "economic and financial globalisation" and "the jihadist globalisation taking root" in France.
The speech also took an anti-EU theme, with Le Pen saying she wanted France to be a "free, independent and democratic country" to separate from the European Union if renegotiating its terms of membership failed.
The 48 year-old politician also railed against global economic forces, according to BBC News. Describing globalisation as creating societies based on "manufacturing by slaves for selling to the unemployed", she claimed FN would provide a "local revolution" which utilised "intelligent protectionism and economic patriotism".
"People are waking up," he told the audience in Lyon on Sunday. "They see Brexit, they see Trump and they're saying to themselves: 'It's worth going to vote'."
In language that that is similar to that used by anti-EU campaigners, such as the Leave.EU campaign and UKIP, Le Pen used the speech to describe the EU as a failure that had "kept none of its promises".
The 144 commitments detailed in the FN manifesto, include policies to alter social housing rules, which French citizens would have access to over migrants; extra taxes on employers who hire migrants; the mass expulsion of illegal immigrants; end free education and healthcare for non-French citizens; and a policy to encourage pregnancy in French families.
It also outlines plans for social housing to be prioritised for French citizens; a "pro-birth policy" for French families; and taxes on employers who hire foreign workers.
As part of its anti-EU package, Le Pen said FN would repatriate powers from Brussels, cutting immigration, taking France out of the euro and ending "unfair foreign competition" for French companies.
"What is at stake in this election... is whether France can still be a free nation," Le Pen told the rally, according to Reuters. "The divide is not between the left and right anymore but between patriots and globalists!"
Although under Marine Le Pen's leadership, the FN has apparently been softening the far-right policies of her father, Jean-Marie Le Pen, the party still evokes prejudice against Muslims and Islam for political ends.
Marine Le Pen used the recent attempted machete attack in the Carrousel du Louvre, an underground shopping mall in Paris, to warn about Islamist terrorism. In the speech, she wanted that France – a traditionally secular state – could fall under the "yoke of Islamic fundamentalism" and that women would be "forbidden to enter cafes or wear skirts".
Political analysts expect Le Pen to win the first round of France's presidential election, as her two rivals struggle in their own campaigns.
The previous favourite, the conservative Francois Fillon, is being pushed to drop out of the contest after becoming embroiled in a scandal. Emmanuel Macron, is a fresh face from France's centrist political world, but is pushing back hard against Le Pen and is engaging in personal attacks against Le Pen, her father and his niece.
However, Le Pen is expected to lose the second, decisive, round of voting.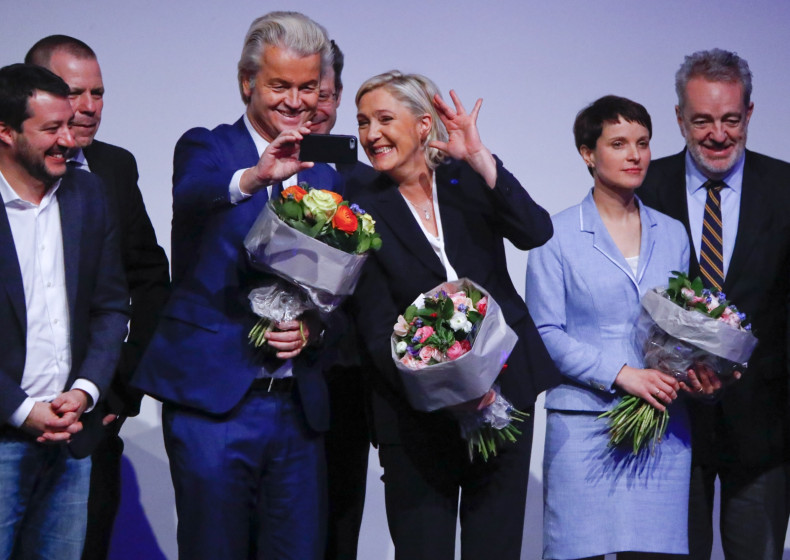 Under Le Pen, the rebranded FN has allied itself with the other far-right and right-wing populist parties in Europe, including Geert Wilders' Dutch Freedom Party (PVV), Heinz-Christian Strache's Freedom Party (FPOe) of Austria, Belgium's Flemish Interest (VB), Alternative for Germany (AfD), and the Matteo Salvini's Italian Northern League (LN).
These parties are treated as pariahs by the mainstream centre-right in Europe, due to their policies and leaders' statements: Wilders wants to ban the Koran; Salvini has praised Benito Mussolini; Frauke Petry of AfD twice called for refugees to be shot; while Strache's Freedom Party campaigned in Austria on a xenophobic platform.
The FN and the are all part of the FN-led Europe of Nations and Freedom group in the European Parliament. The group also includes the former UKIP MEP Janice Atkinson.