During the last six months the situation in Ukraine has exacerbated each day, as the world has witnessed in graphic detail. However, perhaps surprisingly, the terrorists have remained focused on the Donbass region, and haven't managed to infiltrate further into Ukraine.
To understand why the action has been so concentrated in the Donbass, you have to take a long hard look at this region – a totally unique part of Ukraine, with totally unique and fiendishly complex problems.
Indeed, during the period of reconstruction after World War II, Donbass was akin to a Soviet Wild West. It was a magnet for those who wanted the right to be forgotten, 70 years before Google thought of it. Political prisoners, criminals, dissidents... people who wanted to be lost, and had nothing to lose, flocked to Donetsk and Lugansk.
According to Konstantin Batozsky, a senior adviser to regional governor Sergiy Taruta: "After the Second World War, the scale of destruction was absolutely giant. Donbass wasn't the most devastated area, nevertheless the full-scale recovery started exactly from here."
The fact that the Donbass was the hub of Ukraine's vital industries, metallurgy, energetics and coal mining, the reconstruction was speeded up and required huge numbers of migrants. The process was poorly planned – and, of course, it was underpinned by people with a criminal past.
To attract people, for many years Donetsk cultivated the idea that a miner's work was prestigious. "It was necessary because, to tell the truth, the miner's work is the most difficult and dangerous activity. Miners die frequently," says Batozsky.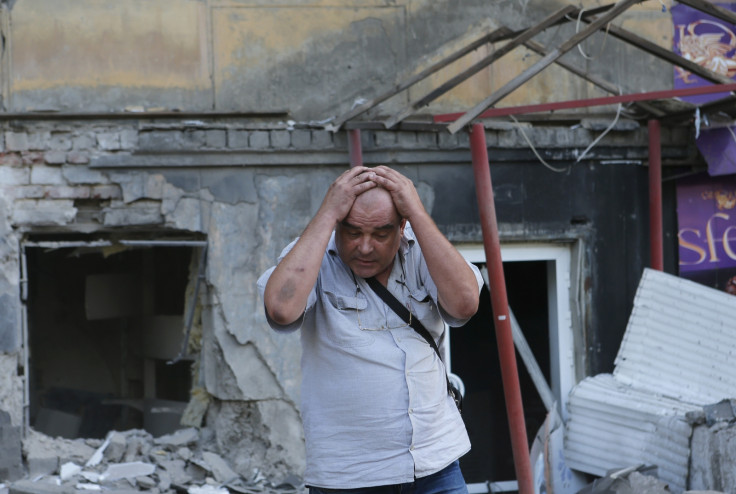 On the whole, the Donbass (until 1961 the Lugansk and Donetsk regions were connected in a single entity) was based on a closed economic system, so all industry in the region was channeled into the chain of coal, coke and metal.
The coal was extracted, and then enriched in agglomeration fabrics for coke production. After that, the coke and ore were put in the oven, so people could get steel. This required a huge amount of electricity and the railway to transport it. Today, Donetsk has a lot of coal-fired power stations, which work using local coal, and an industrial port.
After the collapse of the Soviet Union, Batozsky says, the system "fell into disrepair. Firstly, the bonds were disrupted and, as a result, we couldn't sell our production. Also it became uncompetitive because the world doesn't need as much metal in such quality as Donbass enterprises produce."
Yet, while the industry (and the employment market) has suffered, attitudes have remained unchanged. People still believe, as they did during the Donbass' industrial heyday, that politicians are exploiting them.
According to Batozky, the Party of Regions has cultivated the myth that Donetsk is special, that everybody else must listen to it and respect it. This message resonates with the people. "In our neighbouring Zaporizhia region nobody could even think that he or she has to be respected. However, in Donetsk one can see such feeling."
A gradual deterioration in the Donbass ensured that it became one of the poorest regions in Ukraine, despite the popular image of bustling factories and plentiful production.
"It may look different, but people in Donetsk and Lugansk regions have lived in poverty. At times it has seemed people didn't have enough money even for food," says Batozsky, with an unhidden sadness on his face.
According to Batozsky, the straitened economic situation has forced people to work in illegal coal mining. Criminal power built a system in which it was profitable to have illegal mining labor.
To solve your problems – join to Russia
Then, in one moment, someone presented these people with a solution to all their problems – seceding from the Ukraine and joining Russia. Most Donbass people remember that while they were living in the USSR, everything was great and Donbass was one of the most thriving regions.
However Batozsky says that "I don't think that it [leaving Ukraine] would help. I don't know if it helped the Crimean people, did it?"
He added that Donetsk could not be developed in one or even three years; there is no panacea. It is a long-term process, involving very painful steps like closing coal mines and reorienting production. In addition, it will be hard to employ most of the ex-miners, who are now past working age.
"The scale of the troubles is colossal," recognises Batozsky. "But they [the people] show a great solution. If not [join] Russia, at least choose a gun. Previously you were nothing, but now you get a gun, steal a car and become a human. The gun becomes the most effective 'social lift'."
"It's hard to say if these people changed their opinion during the military conflict. They are cornered. They do not have any other solution except fighting, because the government declared they are terrorists. Those who are fighting today will not put their guns down; they will harden and fight till the end."
World War Three?
"It's hard to say if the Third World War will begin from Donbass – now there is a war between Russia and Ukraine. It is a war full of value." Batozsky continues. He believes Russia attacked Ukraine and, had they not done so, Ukrainians could solve their problems by themselves. "Firstly they took away Crimea. They've attacked us. And now they are supplying arms and soldiers for the terrorists."
Ultimately, he doubts the conflict will grow into a bigger one. The world has many parallel problems that may cause a global conflict – situations in Syria, Iraq, and Israel – but Ukraine is not one of the potential triggers, in his eyes.
Nonetheless, Batozsky's words bring home the fact that, as Ukrainians, we must fight for peace. Even a bad peace is better than war because war takes people's lives. To ensure the victims' lives meant something, we have to reestablish a lasting peace in the Donbass. Unlikely, however, all their deaths look to have been in vain.