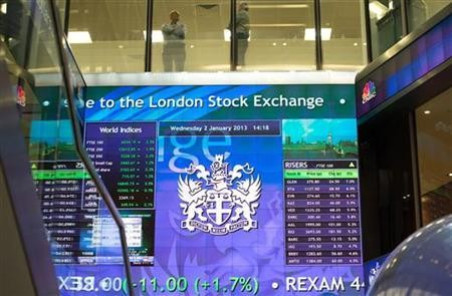 European shares fell for the fifth consecutive session after a series of economic forecast changes put pressure on stock and currency markets around the world.
Britain's benchmark FTSE 100 fell 13.13points, or 0.22 percent to close the session at 6,103.98 and trim the 2013 advance to 3.5 percent.
Tesco plc, the country's biggest supermarket chain, was a standout decliner, falling more than 1.1 percent after reports from the Food Safety Authority of Ireland found traces of horse DNA in some of its frozen beef products.
The region wide FTSE Eurofirst 300 gave back 0.27 points, or 0.02 percent, to trade at 1,159.95.
Concerns over the fate of the global economic recovery appeared to the main driver of sentiment after the World Bank cut its 2013 growth outlook for the global economy citing volatile and sluggish growth in the developed countries. The Bank forecast a 3 percent growth pace for this year following a 2.3 percent advance in 2012.
Growth should improve to 3.1 percent in 2014 and 3.3 percent in 2015, according to bank's current estimates, which cautioned that, while the worst is over for the global economy four years after the onset of the financial crisis, the recovery remains fragile due to the poor performance of high-income countries.
Germany also cut its full-year growth forecast by more than half as exports slow and trade takes its toll on the region's largest economy and predicted exports will slow to a 2.8 percent pace this year, the Economy Ministry said in a statement published on its website Wednesday, against a 3.5 percent gain in imports that will likely trim around 0.1 percent from German GDP this year. The Ministry estimates growth of 0.4 percent this year - less than half the 1 percent expansion it had previously published.
In the bond markets, Germany paid a slightly higher cost on its latest debt market auction - a €4bn sale of benchmark 10 year notes that carry a 1.5 percent coupon - but drew nearly €6.6bn in bids, around 1.7 times more than were available for sale. That compares to a so-called bid-to-cover ratio of 1.5 times in December and a 2012 average of 1.39 times.
UK Gilts rose, pushing the benchmark 10-year yield to 1.99 percent, a multi-week low, after Fitch Ratings warned that poor economic data could threaten the country's triple-A credit rating. Sterling fell 0.5 percent to a seven-week low of 1.5976 against the US dollar
US stocks opened lower on the session despite stronger-than-expected earnings from its two biggest investment banks. The Dow Jones Industrial Average fell 34.71 points, or 0.26 percent in the opening minutes of trading in New York to be quoted at 13,500.18.
The broader S&P 500 declined around 0.87 points to trade at 1,471.47 while the tech-heavy Nasdaq was little changed at 3,111.83.
Goldman Sachs posted stronger-than-expected quarterly earnings and set aside nearly $13bn for bonuses and salaries just hours after the investment bank was reported to have shelved plans to delay some of those payments to avoid higher UK taxes.
Net earnings for the three months ending in December were $2.89bn, or $5.60 per share, the company said in a statement published on its website, nearly triple the $978m recorded over the same period last year. Group revenues were $9.24bn, the bank said. The figures compare to a Thomson Reuters estimate of $3.78 and $7.91bn respectively.
Staff levels fell by 3 percent from last year, the bank said, but its full-year compensation pool rose 6 percent to $12.94bn. That said, the ratio of the pool to net revenues fell from 42.4 percent to 37.9 percent for the full year, the bank said.
JPMorgan Chase & Co. said its fourth quarter profits rose more than expected and cut the pay of its CEO Jamie Dimon by more than half after a multi-billion dollar loss suffered by the so-called London Whale trading scandal last spring.
Net income for the three months ending in December was $5.7bn, or $1.39 per share - a 53 percent increase from the same period last year. Quarterly revenues were around $24.4bn, the bank said in a statement on its website. The figures compare to a Thomson Reuters estimate of $1.16 per share and $24.42bn in revenues. Dimon will receive around $11.5m in compensation for the 2012 financial year, the bank said, less than half of his 2011 pay of around $23m. Full year net income rose to $21.3bn - a third consecutive annual record.