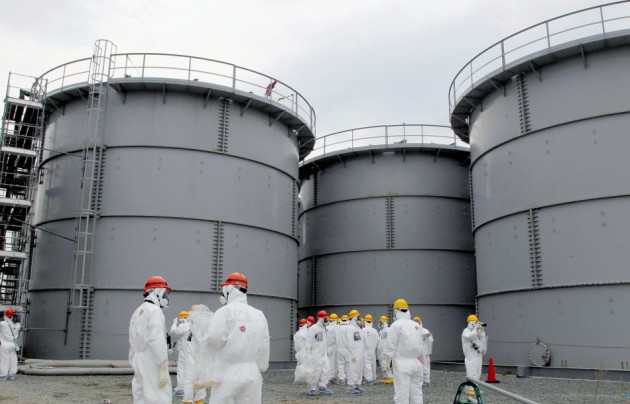 Japan's nuclear watchdog has said it plans to raise the severity of a toxic water leak at the Fukishima nuclear plant to a level three "serious incident".
It follows reports that around 300 tonnes of highly contaminated water have leaked from one of hundreds of steel tanks around the wrecked Fukushima Daiichi plant.
The leak was first classified as a level one "anomaly" on the seven-point International Nuclear and Radiological Event Scale (Ines).
The watchdog, the Nuclear Regulation Authority, said it plans to discuss with the UN whether it is appropriate to use Ines on the Fukushima plant - with a view to raising the state of alert.
Japan has not issued an Ines warning regarding Fukushima since the devastating 2011 earthquake and tsunami, which caused multiple meltdowns at the plant.
The new leak, which has not been plugged, is so contaminated that a person standing 50 cm (1.6 feet) away would receive a radiation dose five times the average annual global limit for nuclear workers within just one hour, reported Reuters.
Workers at the plant have attempted to absorb as much of the large puddles of radioactive water as possible, using sandbags around the leaking tank, bur fear most may already seeped into the ground.
China in shock
China is said the be "shocked" to learn that the plant is still leaking radioactive water. The country's foreign ministry said China "hopes that the Japanese side can earnestly take effective steps to put an end to the negative impact of the after-effects of the Fukushima nuclear accident".
Tokyo Electric Power Company (Tepco), the operator of the site, said it did not know how the leak occurred. Shares in the company fell by as much as 13% as investors worried about the impact of the leak.
Tepco spokesman Masayuki Ono the latest leak was by far the worst from a steel storage tank at Fukushima in terms of volume. The previous four cases involved leakages of only up to 10 litres.
In the aftermath of the 2011 meltdowns, around 1,000 tanks were built to contain the water which leaked from the three failed reactors. However, some tanks, which can hold up to 300,000 tonnes of water, are believed to be less durable than others.
The tanks from the previous five leaks all had similar designs. Ono said the leaked water seeped into the ground after largely escaping the piles of sandbags around the perimeter.
Tepco said the leak poses no threat to the Pacific Ocean as it is around 100 metres (330 feet) from the coastline. But Hideka Morimoto, a watchdog spokesman, said water could reach the sea via a drain gutter.
The triple meltdown at Fukushima two years ago was classed as a level seven incident. Only Fukishima and the 1986 Chernoblyl disaster have been classified as a level seven incident on the Ines scale.
The clean-up operation at Fukushima is expected to take decades.