Arsenal's Mesut Ozil is waiting for manager Arsene Wenger to confirm he is staying at the Emirates Stadium before deciding whether to remain in north London, according to iconic Germany international Michael Ballack. The ex-Real Madrid playmaker is stalling on a new deal and a resolution to discussions is not expected until the end of the campaign.
By then Ozil will have entered the final 12 months of his Gunners contract and should he reject an extension the club would face having to offload him this summer to recoup a fee or lose him for nothing the following year. The Sun understands Ozil and fellow-contract rebel Alexis Sanchez are demanding wages of £290,000-a-week.
The 28-year-old indicated earlier in the season that Wenger, who is out of contract at the end of the year but is expected to sign a new two-year deal, would hold the key to his future at Arsenal – though both men have since distanced themselves from the claim. Ballack believes however that Ozil will not act until Wenger announces his decision.
"It is difficult to say really [if he should stay at Arsenal]," he told Sky Sports. "A player like him, who has played for Real Madrid and now Arsenal and who knows the Premier League and La Liga, he has his own feeling and experience. And there are not many clubs where he can go now and who can afford him. I think he needs to feel comfortable with the decision that he makes. But it also depends on what Arsene Wenger does and they have a good relationship and maybe that is why he is waiting a bit."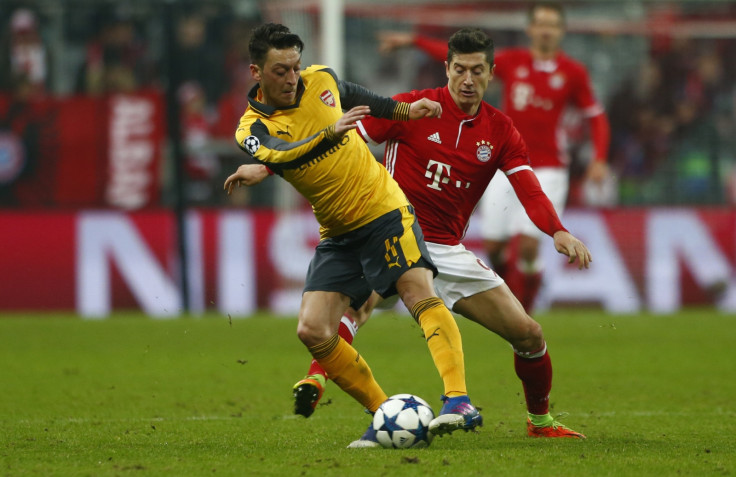 The subtext to talks over Ozil's new contract are the poor displays the midfielder has produced in recent months. With just two assists and no goals in all competitions in 2017, Ozil has become a target for criticism among the Arsenal fanbase who have watched their Champions League and Premier League hopes vanish.
"He is one of the best players in the world at the moment," added Ballack, who won six major honours with Chelsea. "He has a great left foot, a great touch and a good view for the game, combined with his speed with the ball especially. He can have a huge influence on the game and can change games.
"What he can improve is mentally how he deals with certain situations, as if he feels comfortable on the pitch, then he is one of the best players in the world. But everyone has difficult situations in the game where you get criticism and you have to go through that and deal with it.
"But I just wish he could step up a bit more and be a bit more against the opinions of the media, fans, or whoever, because he is a good player and sometimes he should have more confidence. And then he can maybe take another step towards becoming a world-class player, because he has the potential."