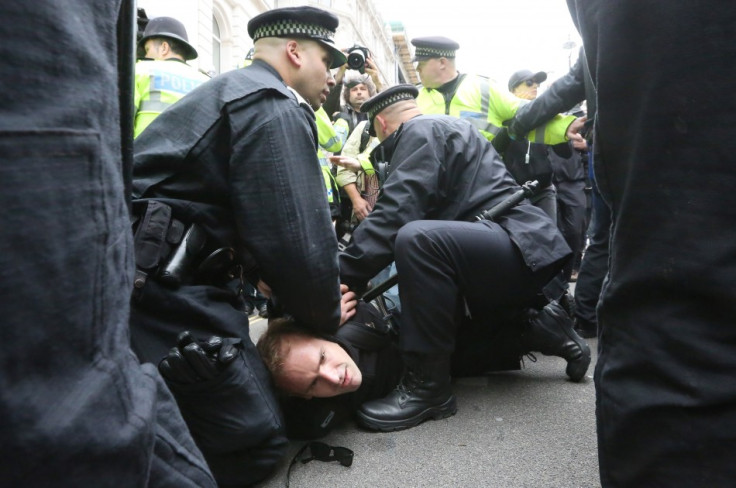 Police arrested 57 people during the G8 protests in central London and are expecting further demonstrations to take place today.
More than 1,200 police were deployed in the capital to deal with the anti-capitalist protests ahead of next week's G8 summit in Belfast, Northern Ireland.
The demonstrators described the demo as a "Carnival Against Capitalism".
As part of the operation, riot police raided a building in Soho, central London, used by the protesters as their headquarters.
The squatters inside the building at beak Street - an old police station - accused the police of heavy tactics after officers forced their way in and arrested people during the three-hour stand-off.
One protester told Sky News: "It's clearly undemocratic. This really smacks of restricting the right to peacefully protest. It's a long tradition in this country for people to get their point across. It's not dangerous, it's not violent. It's a peaceful protest."
Metropolitan Police said they obtained a warrant to raid the building as they believed individuals at the address were in possession of weapons and "were intent on causing criminal damage and engaging in violent disorder".
Police did not say which arrests occurred at the squat in Beak Street or the other protests around Oxford and Piccadilly Circus.
One protestor was filmed apparently trying to jump off the top of the building before being detained by officers.
He was taken to hospital with a bloodied head and is in a stable condition. Police said he has been detained under the Mental Health Act.
Police have now said officers will be deployed at key locations as they believe further protests will take place in the city.
A Scotland Yard spokesperson said: "We continue to ask protestors to contact us and work with us. What we will continue to do is uphold people's right to protest peacefully, whilst balancing the rights of others to go about their daily business, plus uphold our duty to prevent crime and disorder.
"As yet no one has chosen to work with us. "
A London Ambulance spokesman said: "We treated two patients at the scene of the protests in central London. Both have been taken to hospital with minor injuries."
As the demonstrations began, London Mayor Boris Johnson said: "It's very important if people are going to protest - as they have a perfect right to do in London - protest against the G8 or whatever it happens to be, they've got to do it peacefully, they've got to do it in accordance with the law.
"And obviously what's happening now is an operational matter for the police but I assure you they have my full support."
In 2009, more than 100 people were arrested after protests by tens of thousands of people to coincide with a G20 economic summit in London turned violent.