Hundreds of riot police have been deployed in and around central London to help deal with anti-capitalist protests ahead of next week's G8 conference.
The demonstrators had said they would stage a "Carnival Against Capitalism" ahead of the two-day summit in Belfast, Northern Ireland next week.
There was a raid on a building in Soho occupied by organisers of the demonstrations ahead of the anti-capitalism protests in London.
Police could be seen using a chainsaw to open a door to the building on Beak Street, a former police station. It is believed the building was used as a headquarters by the protestors.
More than 100 police gathered outside the building in an attempt to crack down on any potential public disorder from the demonstrators.
A Metropolitan Police spokesperson said: "There's a warrant being executed there.
"Our protest liaison teams are actively working to engage with those wishing to protest so that we can facilitate peaceful protest."
Police added they carried out the search at the building as they believed individuals at the address were in possession of weapons, and were intent on causing criminal damage and engaging in violent disorder.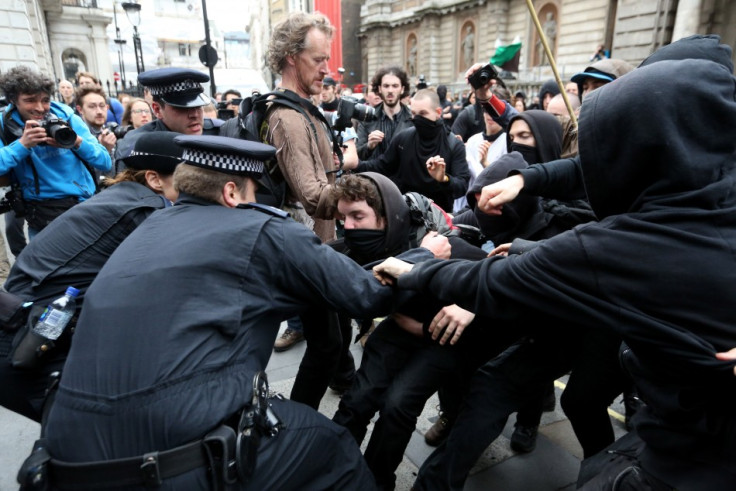 There were reports of scuffles between police and protestors and there has been a number of arrests for offences including assault on a police officer and and possession of an offensive weapon.
Police say they believe protestors also have paint bombs and shields to use against police and their horses.
Hedge funds, private equity firms and international banks were warned to prepare their staff in London to take precautions in the event of possible disruption by activists.
'Every right to protest'
Pictures show police tackling with masked protestors on the street as the demonstration takes place. Despite the heavy police presence, the scale of the demonstration does not appear to on the same size as previous anti-G8 protests in the capital.
As the demonstrations began, London Mayor Boris Johnson said: "It's very important if people are going to protest - as they have a perfect right to do in London - protest against the G8 or whatever it happens to be, they've got to do it peacefully, they've got to do it in accordance with the law.
"And obviously what's happening now is an operational matter for the police but I assure you they have my full support."
Westminster City Council cabinet member for city management Ed Argar said: "Our warden teams will be working with police to manage the streets and we also have clean-up crews on standby.
"Everyone respects the right to legitimate protest and I hope this will be a day without incident.
"However business people, shop staff and visitors have the right to go about the West End without intimidation or interference and we will do our best to ensure the centre of London runs smoothly."
In 2009, more than 100 people were arrested after protests by tens of thousands of people to coincide with a G20 economic summit in London turned violent.