A quarter of the money that poor countries lose to tax-dodging corporations would be enough to eliminate world hunger by 2025, according to campaigners.
As the UK gets ready to host the G8 summit for the first time since 2005, at Enniskillen in Northern Ireland, Prime Minister David Cameron has made clear that the focus would be on tax, trade and transparency.
More than 200 charities have come together to form the Enough Food For Everyone If campaign, demanding that Cameron makes the most as chair of the summit to clamp down on the billions lost in tax avoidance by multinational corporations.
If campaigners highlighted their message by erecting a "pop-up tax haven" on London's South Bank, called the "Isle of Shady". Looking out over the River Thames at London's financial heart, the site focuses on "businessmen" in stereotypical bowler hats and pinstripe suits relaxing in deckchairs next to briefcases labelled "Africa's Billions" and "Poor Country Loot".
Melanie Ward, spokesperson for If, told IBTimes UK that the pop-up haven represented the absurdity of how multinational corporations can hide billions of pounds around the world that could be used instead to help people in the poorest nations.
Eliminate hunger by 2025
"We know that tax havens mean that people think the UK is suffering because the UK is losing so much money to them. But even worse poor countries across the world are losing huge amounts of money to tax havens," she said.
"If poor countries could keep just a quarter of the money they lose to tax havens, they could eliminate hunger by 2025."
Research by child sponsorship charity ActionAid found that only two FTSE 100 companies do not have offshore subsidiaries based in tax havens. Despite many businesses claiming that they contributed to local economies through jobs and investment, Ward added that that should not come at the expense of paying their fair share of taxes.
"ActionAid met a market stall holder in Zambia and we found that she was paying more tax than a giant multinational company operating next door to her. That's unfair and unjust. What we need is a level playing field and we need action to make sure that business really does play fair," said Ward.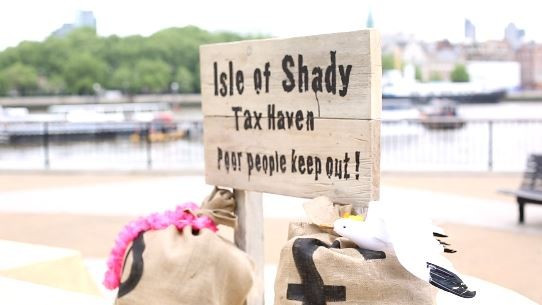 All show and no substance
But with one in five tax havens controlled by the UK government, organisations such as War on Want have dismissed Cameron's words as "all show and no substance". Some of the most significant tax havens - Jersey, the Cayman Islands and Bermuda - are british. The Tax Justice Network estimates that Jersey alone holds around £2bn in assets through secret trusts.
Cameron is due to meet senior ministers from Britain's overseas territories on Saturday (15 June) to discuss proposals to sign an international tax treaty on sharing information about companies' and individuals' offshore wealth with tax authorities in other countries. But according to Murray Worthy, of War on Want, there is little chance of progress.
"Cameron is desperate to be seen to be taking tough action against Britain's own tax havens, ahead of the G8. But in reality this summit will do almost nothing to stop the UK's tax havens being used to dodge taxes," he said.
Activists have criticised the treaty as it only asks that overseas territories share their information "on demand" rather than automatically. The treaty has also fallen under scrutiny for only forcing countries to share the information that they already collect, meaning many companies could still hide their assets if the havens refuse to collect key information on taxpayers.
Worthy said that rather than tinker with tax havens, Cameron needed to use the G8 summit as an opportunity to abolish tax havens once and for all.
"It is an outrage that the government continues to allow multinational companies and rich individuals to use the UK's tax havens to dodge taxes around the world, robbing the world's poorest countries of vital revenue. Cameron can and must legislate to abolish British tax havens if he is to have any hope of following through on his tough tax talk."
READ:
ActionAid Calls For Tax Haven Crackdown at G8 [VIDEO]
HMRC 'Must Fight Brzen Google's Tax Avoidance' - MPs
Vodafone Paid No Corporation Tax in 2014 Despite £294m Profit
Tax Avoidance Crackdown: France to Force Companies to Reveal Foreign Activities and Bills