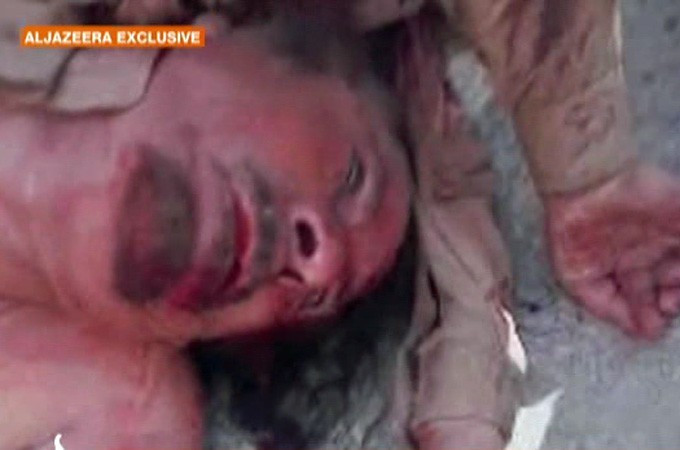 News that former Libyan leader Muammar Gaddafi has died has been confirmed by several NTC officials, but NATO has warned it will need more times to confim the reports.
The once flamboyant leader, known for his singular fashion sense, his female bodyguards and his demonisation of the NTC fighters as rats has reportedly been captured hiding in a sewage whole, with reports immediately drawing comparisons to Saddam Hussein.
Since the announcement of the dictator's capture and then death, graphic pictures and footage of a man, resembling Gaddafi and covered in blood have become viral.
In an update bearing an "urgent" caption, pro-NTC Libya TV reports that Col Gaddafi's body has arrived in Misrata and NTC vice-chairman Abdul Hafiz Ghoga has been quoted as saying that the liberation of all of Libya will be announced within hours.
The death of Gaddafi has also been confirmed by NTC vice-chairman Abdul Hafiz Ghoga .
Scenes of jubilations erupted throughout Libya, as the colonel's death now truly symbolises the end of the Gaddafi era.
His son, Mustassim is reportedly also dead, despite commander, Momhemed Buras Ali Al-Maknee, telling China's Xinhua news agency earlier on earlier that Mutassim had been captured alive inside the city of Sirte by NTC fighters.
So after more than 40 years in power, Gaddafi is now history, leaving the NTC leaders in charge of implementing a transitional phase which will see general elections being set up within two years.
Gaddafi kept a grip on power by championing repression in the country while proudly calling himself "the brother leader," "the guide to the era of the masses," "the king of kings of Africa" and "the leader of the revolution."
In contrast, U.S. President Ronald Reagan famously calling him "the mad dog of the Middle East," while former Egyptian president Anwar el-Sadat of pronounced him "the crazy Libyan."
Claiming he was a "freedom fighter", Gaddafi remained defiant until the end and some have said delusional as even in his lasts messages he claimed the Libyan people loved him, despite the country being mostly controlled by the NTC.
"The people of Libya, the true Libyans, will never accept invasion and colonization," he said. "We will fight for our freedom and we are ready to sacrifice ourselves" he said in one of his last audio broadcast.
Colonel Gaddafi was a 27-year-old junior officer when he led the bloodless coup that deposed Libya's monarch in 1969 and at the time championed Arab nationalism, claiming his political system would challenge both socialism and capitalism.
The colonel also rapidly became a dominant figure in the African continent, arming guerrilla groups and supporting other dictators.
Gaddafi was also accused of financing the IRA and his government was also linked to the Lockerbie bombings, in 1988, making him an international pariah.
In the recent years he had made a comeback on the international scene, ensuring after the 9/11 attacks and the invasion of Iraq and Afghanistan that he would help western countries fight terrorist organisations.
His domestic policies were however based on a very intimate circle of advisers made of his sons and close allies.
However years of relying on nepotism and partrimonialism left the country without a parliament, or a unified army, while political parties, unions, or non-governmental organizations were also suppressed by the regime.
After months of conflict and a country still affected by a strong sectarian divide, even with Gaddafi out of the picture, the NTC's task is still set to be extremely challenging.