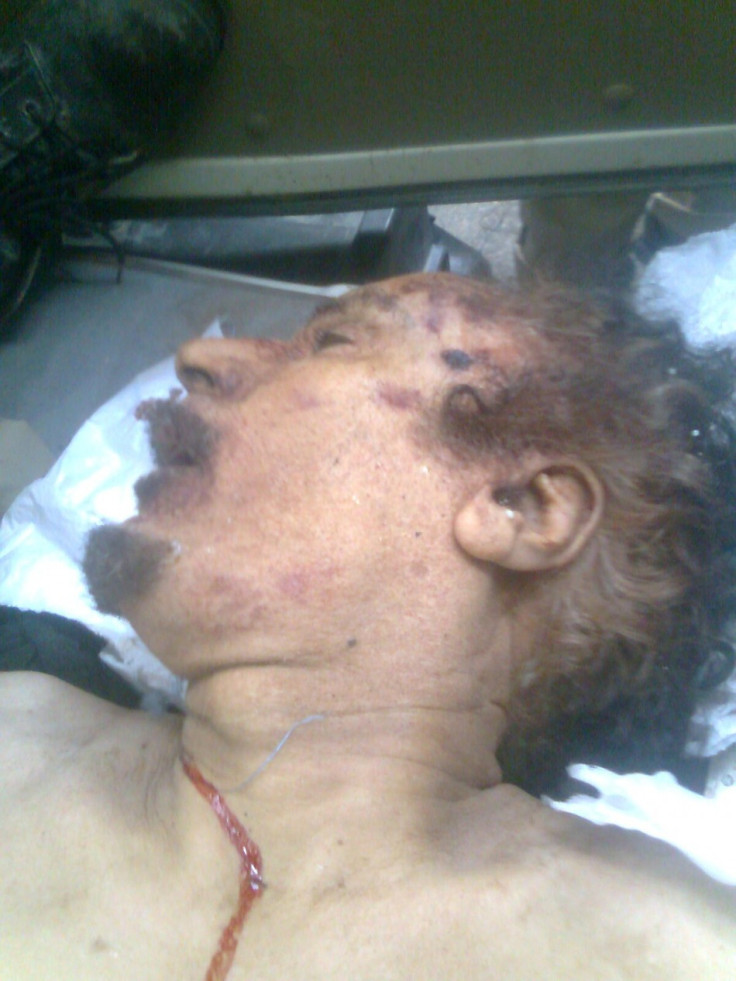 As Gaddafi's death has been announced and confirmed, the Libyan authorities now have to start planning for the former leader's burial, a topic which seems to divide the NTC, proving the 'lion of Africa' can seem provoke trouble in death.
While Islamic tradition requires corpses to be buried as soon as possible, divergences over how to dispose of Muammar Gaddafi's body could delay the burial.
Oil minister Ali Tarhouni told Reuters that Col Gaddafi's body may be kept "for a few days" and the reports suggest authorities are planning a secret burial, leading to speculation the Colonel might, just like Osama Bin laden be buried at sea, to prevent his grave from being turned into a shrine.
The burial of Osama bin Laden was controversial as despite the U.S. authorities's insistence the former al-Qaeda leader had been buried according to Islamic precepts and practices, Islamic scholars widely criticised the move and described it as 'inapropriate'.
Col Gaddafi's body, currently in Misrata, might also not be released for burial immediately, Tarhouni told Reuters.
"I told them to keep it in the freezer for a few days... to make sure that everybody knows he is dead," he said, before adding when asked about the burial arrangements, "There is no decision yet."
Reuters also quoted an unnamed official revealing there was disagreement within the National Transitional Council (NTC) over what to do with the body.
It is also not yet known how the authorities will dispose of Mutassim, Gaddafi's son, also killed in Thursday battle.
Meanwhile, questions are mounting as to exactly what happened in Col Gaddafi's last moments following his capture, as allegations he had been executed are still circulating.
While acting Prime Minister Mahmoud Jibril said Col Gaddafi had been shot in the head in an exchange of fire between Gaddafi loyalists and NTC fighters while en route to a hospital.
Ther NTC also said a forensic report showed he died from a bullet wound to the head.
However rumours he had been executed started to emerge after video footage of the leader, seemingly still alive after being captured, emerged.
Two other videos taken later in the day show Gaddafi being rolled over and kicked on the ground, , but he still appears to be alive.
However, a photograph taken later on showed a new wound, and a clearly visible clean bullet hole can be seen in his left temple.
With Gaddafi's death still stirring up controversy and is burial set to attract the attention of the Arab world, the NTC cannot afford to remain divided over how to dispose of the former leader and his son's corpses.