India is confiscating animals illegally transported to Nepal where the world's second largest religious animal sacrifice, after Hajj, is set to begin on Friday (28 November).
The one month-long Hindu Gadhimai Festival, held in the small Nepalese town of Bariyarpur, southern Nepal, occurs every five years in November. It ends with the sacrifice of hundreds of animals such as goats, cows and chickens, to honour the goddess Gadhimai.
This practice has caused outrage since it was first carried out in 2009, when an estimated 250,000 animals were killed, with activists calling for authorities to prevent the slaughters.
Following growing outrage during the months prior to this year's festival, India's Supreme Court issued in October an order to prevent animals from being illegally transported across the border.
Animal group India's Humane Society International (HSI) believes that this year the number of sacrifices will be less thanks to the work of activists.
Speaking to IBTimes UK from Bariyarpur, HSI director Jayasimha Nuggehalli said that around 3,500 animals have so far been confiscated.
He added that at the time of publishing, there were "only about 3,000 buffalo in the sacrifice arena.
"Compare this to 2009 where 30,000 or 40,000 buffalo were killed and you can see that we've had a dramatic impact on reducing the numbers. The buffalo are the only animals that are properly counted so you never know how many sheep, goats, birds etc have been killed. But if it continues like this we are looking at many many thousands of animals less than the last festival."
Nuggehalli said that there are approximately one million people attending, far less than in 2009.
"The word has definitely got out that bringing animals to Gadhimai for sacrifice is a bad idea. That's not to say that people are not trying."
HSI members also met with Nepal's president and prime minister to shed light on the issue.
"The Nepalese government has been the biggest let down in all this," Nuggehalli said.
"When HSI met them, they promised co-operation to implement the court order, but it was an empty promise. The Supreme Court of Nepal only yesterday ordered the Nepal government to ensure that animals coming illegally from India for sacrifice be stopped, and that all animals have the required health certificates as required by law.
"However, the orders are just being ignored, in contrast to the India side. The Nepal government has completely failed to take proper action."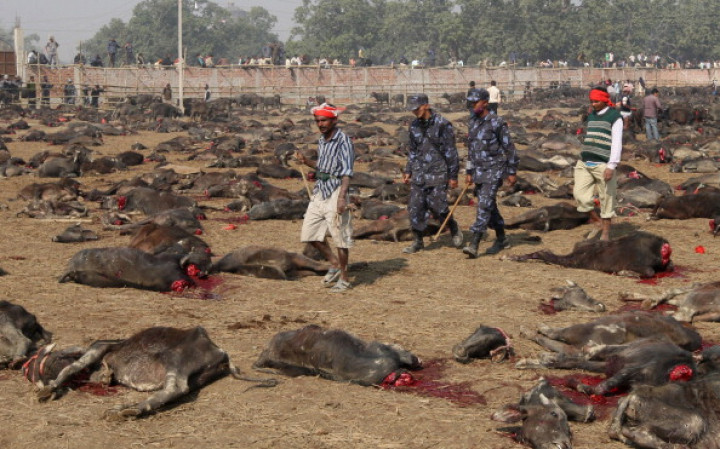 Slaughters 'Appallingly Cruel and Utterly Unnecessary'
Philip Lymbery, CEO of Compassion in World Farming, told IBTimes UK that the slaughtering is "appallingly cruel and utterly unnecessary to the point of beggaring belief. The Nepalese government should hang its head in shame for letting this atrocity go ahead.
"The global tide of outrage against this most appalling festival of slaughter must surely move the Nepalese government to ensure this year's mass slaughter is the last."
This view was echoed by British actress and animal rights activist Joanna Lumley, who said at a rally outside the Nepalese embassy in London in October: "The Gadhimai animal sacrifice festival entails horrendous animal suffering and is a complete anomaly in this wonderful country.
"I hope that our voices of protest will curtail this year's festival so that Hindus in Nepal and elsewhere can once again be proud of their true tradition of compassion and concern for animals."
Awareness to Stop Slaughters
Nuggehalli believes that awareness can lead to end the slaughter.
"In the next five years till the next Gadhimai, we need to focus on building a lot more public awareness in Nepal," he said.
"Most people there still want to sacrifice animals and believe sacrifice works, and so we need a massive education programme that animal sacrifice is not necessary and should be stopped.
"We also need to work on changing the Nepal government's attitude to animals. The Nepal government is right now writing the Nepal Constitution and HSI has asked for animal welfare language to be included just like in the Indian Constitution."