Samsung Electronics has officially unveiled a complete roster featuring 13 world-class football players who will be participating in the company's fantasy-inspired global marketing campaign. The players are expected to face off a mysterious team of aliens in a virtual football match, which is unlike anything we have seen on earth.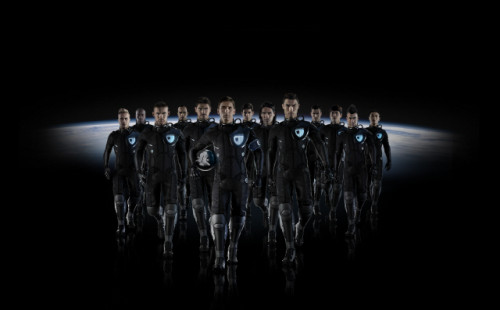 The campaign kickstarts with the theme "#Winner Takes All" and Samsung has spurred further interest among football fans by introducing a four-minute cinematic-style video, Galaxy 11: The Beginning.
Check out the YouTube video below to learn about the recruiting process and how these great players across the globe became part of earth's ultimate football team, the Galaxy 11:
"We've assembled a 'dream team' of top-class players from around the world to join the Galaxy 11 campaign and help bring this story to life across various channels and Galaxy devices," said Younghee Lee, Executive Vice President of Global Marketing (IT & Mobile Division at Samsung Electronics) in a press release.
"As the story continues to unfold, fans participation will become even more vital to our campaign. We are looking forward to bringing our passionate fans closer to the Galaxy 11 team and story through a series of upcoming socially-driven and interactive initiatives," adds Lee.
Here is the 13-member list of the Galaxy 11 dream football team:
1. Lionel Messi (Argentina; Captain)
2. Mario Götze (Germany)
3. Oscar dos Santos Emboaba Jr. (Brazil)
4. Wu Lei (China)
5. Stephan El Shaarawy (Italy)
6. Victor Moses (Nigeria)
7. Radamel Falcao (Colombia)
8. Lee Chung-Yong (South Korea)
9. Iker Casillas (Spain)
10. Wayne Rooney (England)
11. Landon Donovan (United States of America)
12. Alexander Kerzhakov (Russia)
13. Cristiano Ronaldo (Portugal)
With the roster well set up, team manager Franz Beckenbauer (Germany) reveals that the players will begin training for an epic match against the aliens to save planet earth. "Galaxy 11: The Beginning" is the hallmark of each player's unique skills and abilities off the field.
The campaign will reveal the importance of Galaxy Note 3 and Galaxy Gear devices in enhancing the team's performance in preparation for the epic match as well as during earth's ultimate football showdown.
Avid football fans are invited to support and follow their Galaxy 11 team through one of the following social media and micro-blogging sites:
• Microsite: www.theGalaxy11.com
• Tumblr: www.theGalaxy11.Tumblr.com
• Facebook: www.Facebook.com/SamsungMobile
• Twitter: www.Twitter.com/SamsungMobile
• YouTube: www.YouTube.com/SamsungMobile
• ChatON: www.ChatON.com/Galaxy11
• Call-to-Action: #Galaxy11
According to Samsung, the campaign will be revealed in a series of chapters in 2014, while offering engagement opportunities across Galaxy devices, online platforms and social media channels.
Check out further details of the Galaxy 11 challenge via YouTube teasers posted at this link: http://www.thegalaxy11.com/en/challenge