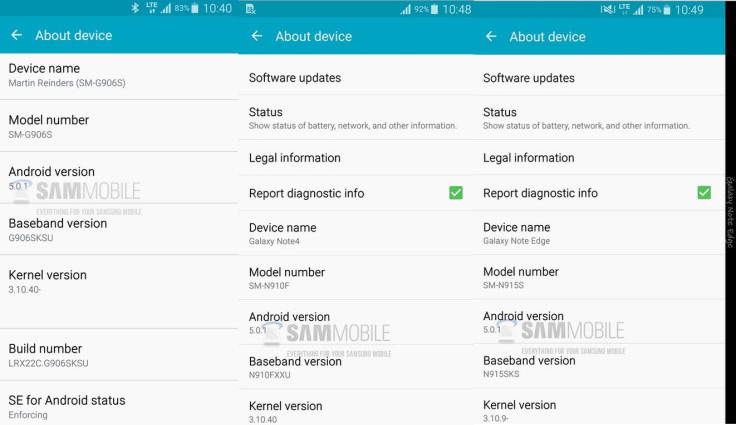 Samsung might update a few of its top-notch Galaxy devices to Android 5.0.1 directly, skipping the previous Android 5.0 version.
Earlier this week there have been leaks suggesting Samsung is working on the Android 5.0.1 update for its premier Galaxy smartphones such as Galaxy Note 4, Galaxy Note Edge and Galaxy S5 LTE-A, hinting the company will skip Android 5.0 for the sake of Android 5.0.1.
Sammobile has posted exclusive preview videos showing the Android 5.0.1 build running Galaxy Note 4, Galaxy Note Edge and on the Galaxy S5 LTE-A model as well.
Android 5.0.1 is not a huge upgrade over Android version 5.0, but the builds in the new Android version contain a couple of new features such as slow and fast motion video recording capability and various fixes.
These Android 5.0.1 builds for the aforementioned Galaxy handsets, as the videos show, are still in the experimental phases and are not the complete version. For instance the Multi User support is available on Galaxy S5 LTE-A, but is missing on Galaxy Note 4 and Note Edge.
Given the fast development of the Lollipop updates, the new Android software version is expected to be released by next month.
Check out the following videos to get a sneak peek of how Android 5.0.1 works on Galaxy Note 4, Galaxy S5 LTE-A and Galaxy Note Edge.