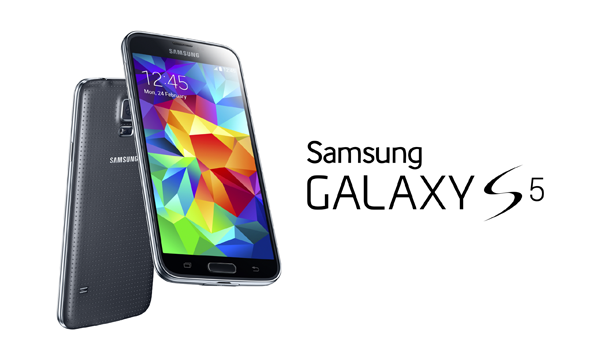 Galaxy S5's display pixel structure is reportedly found to be more efficient than Galaxy S4, according to a recent teardown analysis report by Chipworks.
In their attempt to dig deeper into the innovative technological prowess of Samsung's latest flagship smartphone, Chipworks has laid down the theory behind Galaxy S5's more efficient and brighter display in comparison with the Galaxy S4.
Despite the fact that both Galaxy S5 and Galaxy S4 feature the same Super AMOLED display technology, Samsung has made some noticeable changes to the sub-pixel structure and size on the Galaxy S5.
While the Galaxy S4 used the diamond shaped sub-pixels for blue and red, and oval shaped sub-pixel for the green, the Galaxy S5 uses the same diamond shaped sub-pixels for all three display colours (Red, Green and Blue or RGB).
Furthermore, Samsung has reportedly reduced the sub-pixel sizes for all three colours (RGB) wherein the red sub-pixel is scaled down from 36 microns to 27 microns and the blue sub-pixel is reduced from 31 microns to 27 microns, while green also takes a chop from 23 microns to 19 microns.
The new pixel structure and size of sub-pixels coupled with usage of organic materials has reportedly boosted the display efficiency by 27% on the Galaxy S5 in contrast to the Galaxy S4.
Chipworks further explains that the blue sub-pixel in Galaxy S4 suffered with the least emission efficiency and hence it had the largest size of 36 microns among the three sub-pixels (RGB).
In a bid to bridge the gap in efficiency between blue and red pixels, Samsung has adopted equal sized sub-pixels for red and blue in the Galaxy S5, while reducing the green sub-pixel size further.
Check out the subtle variations in sub-pixel sizes and structure between the Galaxy S5 and the S4 in the images below: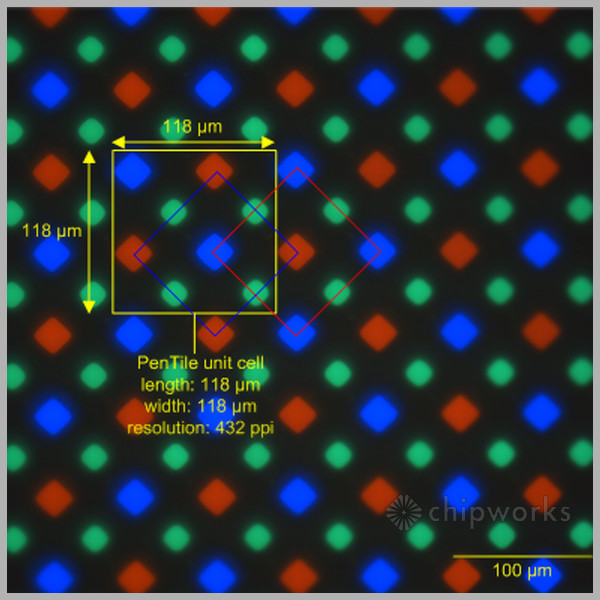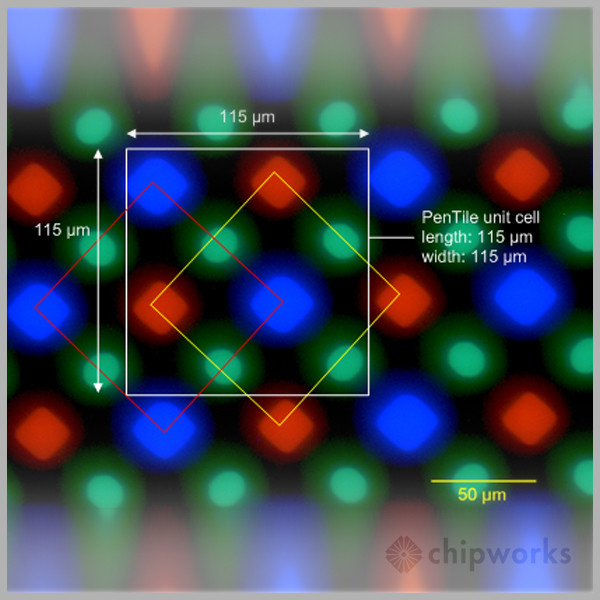 Consequently, the Galaxy S5 sports a much brighter display than the Galaxy S4 which means the former offers better legibility or readability under direct sunlight.
With the ability to attain maximum display brightness of 698nits in outdoor conditions, the Galaxy S5 clearly flaunts one of the brightest OLED displays available in the market today.