Gays More Deadly Than Tsunamis and Earthquakes, Gambian President Yahya Jammeh tells UN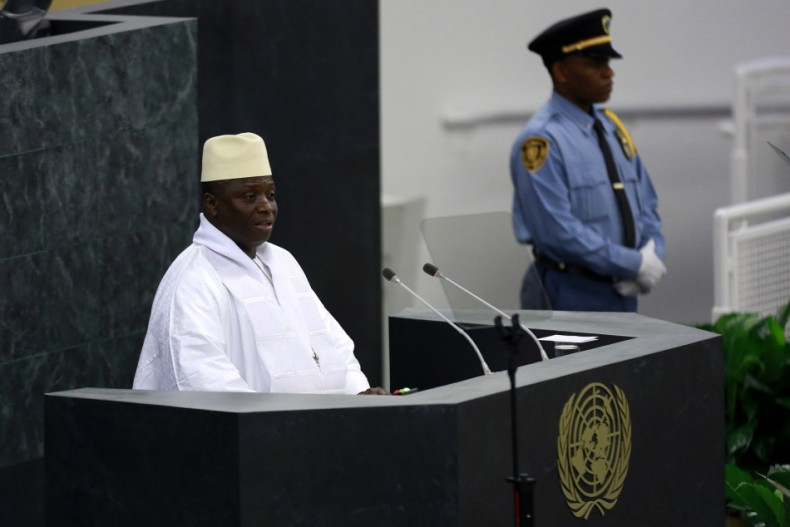 The president of Gambia used his address to the United Nations General Assembly to accuse gays and lesbians of being one of the three "biggest threats to human existence. "
Naming the two others as greed and obsession with world domination, president Yahya Jammeh said that they "are more deadly than all natural disasters put together."
Jammeh, who has cultivated an image as a devout Muslim, has repeatedly used stridently anti-homosexual rhetoric in the past.
In a rant to Freedom newspaper earlier this year he said: "Homosexuality is anti-humanity. I have never seen homosexual chicken, or turkey. If you are convicted of homosexuality in this country, there will be no mercy for offenders."
In 2008, he ordered gay men and lesbians to leave Gambia or faced being beheaded, though he later retracted the comment, and said he only wanted to banish gay people from the country. He has also claimed to be able to cure AIDS with a herbal body rub and bananas.
Gambia currently receives aid from the both the UK and US for education and social reform programmes, but Jammeh has said that threats from the west to cut off financial support for countries that do not respect gay rights left him undeterred.
"We are ready to eat grass but we will not compromise on this.
"Allowing homosexuality means allowing satanic rights. We will not allow gays here," he said.
In Gambia, a homosexual act can be punished by a 14 year prison sentence.
In 2012, 18 men had to go in to hiding after police officers raiding a nightclub took pictures of them 'wearing female clothes' and 'walking like ladies'.
They said they had been subjected to beatings and death threats when the charges were made public. Police subsequently dropped the case when it was revealed that the photos were faked.
President Jammeh seized power in the West African country following a peaceful coup in 1994.