Gambia's President-elect Adama Barrow has declared he is the rightful leader of his country, regardless of ongoing electoral disputes that have sent shock waves across West Africa. Barrow, a former businessman and member of the United Democratic Party (UDP) opposition party, defeated long-standing leader Yayha Jammeh during presidential election held on 1 December.
However, a climate of fear has slowly crept over the nation, replacing the initial jubilation that met Barrow's win. Jammeh, who originally conceded defeat, now intends to contest the outcome of the vote at the Supreme Court due to what he says are "unacceptable abnormalities".
The U-turn followed an admission by Gambia's Independent Electoral Commission (IEC) that it had erred during vote counting and Barrow's margin of victory had narrowed from 9% to 4%.
Despite the changes, the commission insists that the new tally leaves the outcome of the election unchanged with Barrow receiving 43.3% of the vote, and Jammeh 39.6%.
"I am the rightful president of the Gambia, I emerged as the winner and we are making all efforts and use all diplomatic channels to resolve the current crisis," Barrow told IBTimes UK.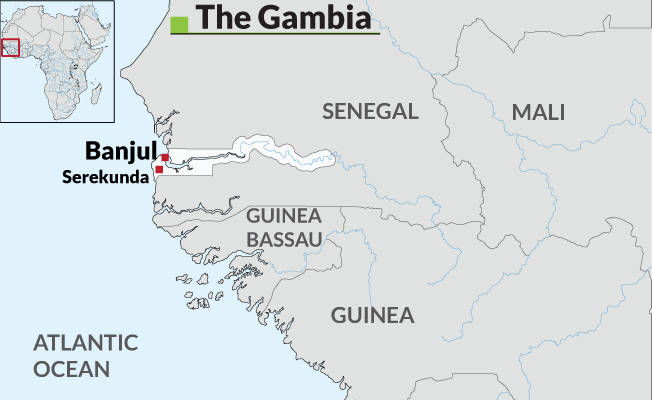 He made the comment one day after four West African leaders – from Nigeria, Liberia, Sierra Leone and Ghana – met Jammeh, who took power in 1994, and urged him to accept defeat.
The leaders left without managing to secure a deal with Jammeh, with the head of the Economic Community Of West African States (ECOWAS) claiming a military intervention to remove Jammeh was "possible".
On 14 December, security forces that initially pledged alliance to Barrow, backtracked claiming they were loyal to Jammeh and took over the electoral commission headquarters. The move sparked fears of possible violence.
Barrow admitted he was concerned about his safety but added he was confident the issue could be resolved peacefully.
"I don't think a military intervention is going to happen. The situation is clear here. The president called me to congratulate me and, in his own words, he said 'our electoral system is the best system in the world and no-one can rig it,'" he said.
"We want Gambians to remain calm, this is not about personal issues, it is about principles and we are doing everything we can to resolve this in a peaceful way."
"Four presidents visited the Gambia yesterday to open a channel of communication with the central government and we have been having meetings with leaders from the international community, and they are positive. We all want Gambia to move forward."Barrow is due to be sworn in on 18 January. The president-elect promised he would implement policies that could change Gambia, which has been marred by alleged human rights abuses over the course of Jammeh's 22-year-long reign.
"We intend to carry out several key reforms, including introducing a two-year term limit for presidents. Also, you will have to get an absolute majority before becoming president, you have to get 50% plus one vote," the president-elect explained.
Barrow, who worked as a security guard at an Argos store in London, wants the Gambian community in the UK and the rest of the world to stay united during this turbulent times.
"To the Gambians in London and the rest of the world, I want to say: we worked very hard for this change to happen. We are calling on every Gambian who have anything to contribute, to come and join us to make very serious changes. We want to achieve what we have fought for," he concluded.