Gambians will head to the polls in December to vote in the presidential election that sees President Yahya Jammeh running for a fifth term. Earlier this year, the Gambia came under fire for the way it handled protests in the capital Banjul, where people called for electoral reforms and the resignation of Jammeh, who has been in power since 1994.
At least 50 people were arrested, amid fears two members of the main opposition party, the United Democratic Party (UDP), died while in detention.
Right groups have claimed the protests were the result of the repressive government of Jammeh, often accused of violating human rights, and cracking down on dissidents, journalists and activists.
The leader has also been accused of inciting tensions by making genocide remarks against the Mandinka ethnic group.
Some people have claimed the Gambia's recent decision to pull out of the International Criminal Court (ICC) was made to avoid a possible prosecution of Jammeh for alleged human rights violations he committed during his office.
In the lead-up to the election, IBTimes UK interviews Dr Isatou Touray, 61, the first-ever female presidential candidate in Gambia's history.
Touray is an independent candidate renowned both locally and internationally for her advocacy work to promote democracy, social justice and gender equality in her country.
A laureate of the Center for Women's Global Leadership Institute in Rutgers University in New Jersey, and the Bellagio Institute in Italy, Touray envisages a country where both men and women have equal opportunities and youths don't feel the need to embark on a perilous joinery to Europe to have a better life.
What are are the main obstacles to gender equality in the Gambia?
A lot of people in the Gambia are ignorant about the concept of equality. For example, many people used to believe that women cannot lead and the concept of girl education was a taboo.
Sometimes, the discrimination that women face is not because they are not confident or fit, but because of the perception and stereotypes that people have developed over time. Fortunately, with the awareness and sensitisation that has been going on, these aspects are being demystified.
Should you be elected, how will you promote gender equality?
I will implement policies that promote gender equality and women's rights. For example, we will promote girl education at the highest level. I will also promote policies that allow women who are employed to take on their responsibilities. Sometimes, stereotypes on gender role can affect leadership.
I will also promote policies on maternity and paternity leave and provide facilities for women to be able to carry their children to work. I will promote opportunities for girls at academic level. I will promote economic activities and build awareness that women's rights are human rights and every institution will have to take account of that.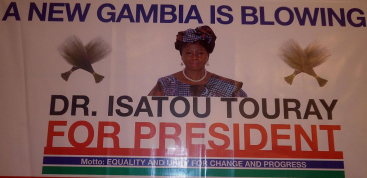 You have been campaigning to end female genital mutilation (FGM) in the Gambia. Is the practice still widespread in your country?
There are different forms of circumcision in the Gambia. Almost 70% of the population have been subjected to it.
FGM was a rite of passage and it was done for other justifications revolving around female sexuality. I am a victim of FGM and I created an organisation to eradicate this practice.
It was very challenging and daunting, but through patience, perseverance and culturally-relevant strategies to demystify people's beliefs, people have been abandoning the practice even before a ban was implemented in 2015.
What other changes would you like to see in your country?
I would like to promote democracy, which, at the moment, is not happening in the Gambia. I also want to make sure that the constitution is no longer abused, I will strengthen the institutions and organisations that promote human rights.
I will try to restore relations between our nation and the international community and promote bilateral relations that will advance the Gambia and make sure both men and women have equal opportunities. Gambia is facing the current situation because of lack of proper capacity to lead the country.
What do you think about the fact that members of the opposition were arrested during protests earlier this year?
It is a violation of human rights. If I become the president, I will immediately work to release all the political prisoners and prisoners of conscience. There are prisoners who are innocent, but because of their political affiliations, they are being victimised.
I will also try to look at the prison situation. In the past, I was detained with one of my colleagues because of our human rights work. It was a harrowing experience.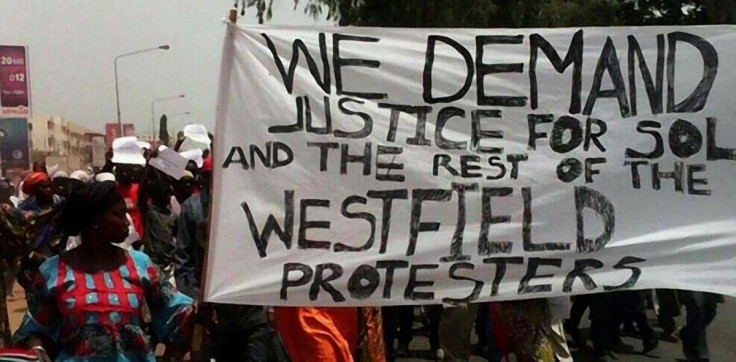 The Gambia announced it will leave the ICC. What are the negative consequences of this decision?
It will allow the continuation of human rights abuses and it will also strengthen the amount of violations. The international community should not be complacent, because this can culminate into a genocide, particularly against the Mandinka people. The Gambia is part of the international community and something has to be done.
Gambia has the third highest number of immigrants arriving by boat to Italy, according to the International Organisation for Migration. Why do Gambians flee their country and what would you do to stop people from leaving?
Abuse of human rights, impunity, no employment. Youths do not have any hope anymore in this government because promises were not delivered. People who leave are not only economic migrants, but also victims of abuses. The Gambia has disappointed young people.
People feel compelled, by the current circumstances, to leave. My plan is to create job opportunities and create an environment where people would like to remain in. If they still choose to travel, they must go through the right process.
I will try to have negotiations through diplomatic channels to allow the Gambians to receive visas. Now, most of embassies are not in Gambia and that's why a lot of people are going through the back-way, but this is not the best option.
You are the first-ever female candidate in the history of the Gambia. How does this make you feel?
I feel very good about myself. All these opportunities I had in developing myself academically and professionally have have made me what I am today.
This is what every person needs − the possibility to develop themselves. There are so many stereotypes, particularly affecting women in Africa, and all these experiences put together gave me the confidence, the competence and the professional relevance I need to be able to understand how development and gender equality work.
Because I am running for president, I am concerned about my safety. But this is my country and I am committed to promoting and advancing human rights and democracy.
What is your message to the international community?
The Gambians are going through a very difficult situation and we are trying our very best to address issues in a non-violent way. But in the current status quo, impunity and violations are rife. We should not be left behind and a lot of things should be done to protect us.
---
The Gambian embassy in London has not replied to a request for comments.
---