The Gambia's president of 22 years Yahya Jammeh will relinquish power and 'leave', his elected successor in exile Adama Barrow has said.
Barrow took to Twitter to make the announcement the day after he was inaugurated at the Gambian embassy in Dakar, in neighbouring Senegal, on Thursday 19 January.
Barrow, from the United Democratic Party, has been in Senegal for days after a state of emergency was declared in the small West African state when Jammeh refused to step down. A political crisis then ensued with Barrow pleading with Jammeh to relinquish power without bloodshed.
Jammeh had originally said he would leave office following the 1 December election win by Barrow, but after changing his mind even pressure from regional powers and the UN could not oust him.
Around 50,000 people fled the country fearing bloodshed and the Economic Community of West African States (Ecowas) had sent troops to the Gambian border in preparation to remove Jammeh from power. They said they had no resistance from the Gambian army.
In a crucial move, Gambia's chief of defence forces Ousmane Badjie pledged his allegiance to Barrow, swinging the pendulum further in favour of the former Argos security guard who had once lived in London.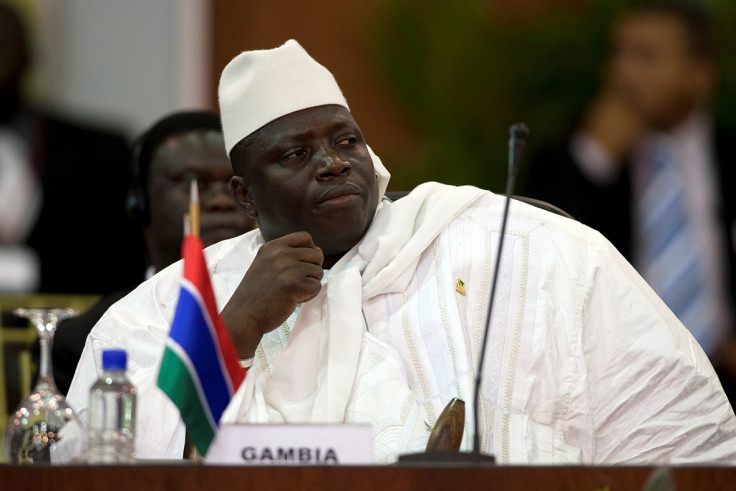 Ecowas, a regional union of nations, set a deadline for Jammeh to set down which expired at 16:00 GMT on Friday, which passed without a conclusion.
The presidents of Guinea and Mauritania were in the country for talks, according to reports.
Barrow made the announcement after hours of talks. He said: "I would like to inform you that Yahya Jammeh has agreed to step down. He is scheduled to depart Gambia today."
In the final days of his tenure Jammeh had engineered a parliamentary vote to extend his presidency and had called for fresh elections. It is not clear where Gambia's former strongman leader who once claimed he would rule the country for "a billion years" will head to next.
In the midst of the crisis thousands of British holidaymakers were repatriated by Thomas Cook on charter flights, from Banjul Airport fearing a conflict or a diplomatic crisis.