Troops from Senegal have reportedly crossed the border into The Gambia as thousands of people take to the streets to celebrate Adama Barrow being sworn-in as the new president, following a ceremony at the Gambian embassy in neighbouring Senegal.
The army is believed to have entered The Gambia in a bid to ensure former president Yahya Jammeh departs from office following his defeat in elections held in December 2016.
Jammeh, who initially agreed to a peaceful transition of power, has since declared a state of emergency in the small West African state, bordered by Senegal and the Atlantic Ocean. Thousands of British holidaymakers are now being repatriated by Thomas Cook on charter flights, with the final six flights due to depart Banjul Airport on Friday 20 January.
In its most recent update on Thursday (19 January), Thomas Cook said: "Over the three days of repatriation flights, we have had seat capacity for all of our customers in the Gambia, and we continue to allocate seats to ensure all of the customers who want to return to the UK are able to do so.
"All customers who intend to fly tomorrow should arrive at the airport a minimum of four hours prior to departure. Any flight-only customers who have not yet been in contact to arrange their journey back to the UK should call us as soon as possible on 0044 161 774 2966 for details of their allocated flight."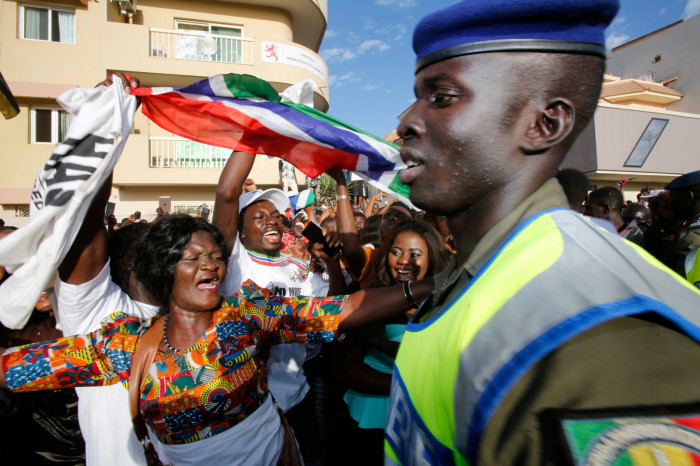 Neighbouring West African countries have made it clear that they support the inauguration of Barrow, who once worked in a London Argos. Barrow has ordered Gambian troops to remain in their barracks or be considered "rebels", the BBC reported.
The United Nations Security Council also endorse Barrow but argues Jammeh should be removed by political means.
Senegal is one of a number of states in the region known as the Economic Community Of West African States (ECOWAS) which have declared Barrow must be allowed to preside over Gambia. According to AFP, the Nigerian air force is flying over Gambia tonight (19th January). Nigerian Air Force spokesman Ayodele Famuyiwa told AFP: "They have the capacity to strike."
The Foreign & Commonwealth Office (FCO) is advising UK citizens to leave The Gambia if possible, and avoid Banjul due to the possibility of it being a military flash point. The FCO update goes on: "If you're currently in The Gambia you should leave by commercial means if you have no essential need to remain. Contact your airline or travel company for more information about departure options."