On first listen...
The Game's been a busy boy as of late. Aside from his Streets of Compton A&E documentary series and its accompanying soundtrack, as well as his Atari Block Wars mobile game and the soundtrack for that, he's entered into a series of high-profile beefs with Meek Mill, Beanie Sigel and Sean Kingston. Without getting into that too much, it's certainly shined a spotlight on The Game, and at a time when he has a new album to promote.
Set against the backdrop of 1992, The Game's latest album – cleverly entitled 1992 – is a sample-heavy project that hears him document his life during a time that shaped him into the man he is today. Drawing inspiration from events such as the Los Angeles riots, the pain and despair he was well acquainted with as a child comes to life through a sea of samples and killer lyrical content.
Our verdict
Opening with the knife to the gut reality check Savage Life, The Game spits about the reality of LA life. "No way to dodge police brutality/ Selling crack cocaine, making a teacher's salary." The brutal honesty may be shocking to some, but to those that have experienced it, it's not a shock – it's real life. Detailing gang culture and highlighting a corrupt government, his words ring true over a flipped version of Marvin Gaye's Inner City Blues (Make Me Wanna Holler), a song that also outlinedthe bleak economic situation in America's ghettos.
As someone who has always been quick to shout about his gang affiliations, on Young Niggas The Game tells the story of an unfortunate event that resulted in him having to kill one of his friends because of a conflict of colours. While it's not clear whether or not the story is in fact true – The Game has never been one to snitch on himself on record so it's likely to be a fictitious account – it is one of 1992's most engaging moments. Produced by The Chemists Create, the smooth drum loop and weightless piano arrangement – which sound like something J. Cole would flow over – creates a reflective bed of instrumentation that tugs at the heartstrings of its listener during the sad tale of another black life lost to gang violence.
Other highlights on 1992 include the Cool & Dre produced Baby You, which features Jason Derulo . Dedicated to The Game's ex-girlfriend Tiffany Cambridge, the love/hate relationship the two have is put on display for all to hear over a 70s soul-inspired backdrop.
Then there's The Juice. Easily the album's finest moment, the up-tempo drum kicks, triumphant keys and powerful harmonies lay the perfect field for The Game to march onto like a man possessed. Drawing inspiration from the infamous quote from the movie Juice, he lists all the times he's been told that he has The Juice - to have 'The Juice' is to have a high level of respect, credibility or power. Listing things like the birth of his son, signing to Aftermath, going platinum, and more, this is definitely a moment of self-indulgence for The Game – but it's one rightfully deserved.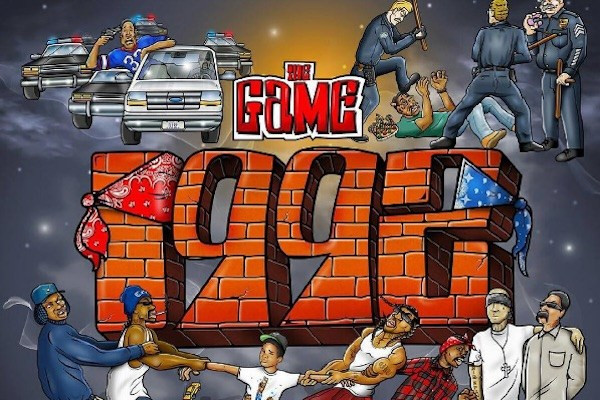 There are moments throughout 1992 where it feels more like a mixtape than an album. Failing to really fit in with the rest of the project, True Colors/It's On, 92 Bars – his diss to Meek Mill – Bompton, and Fuck Orange Juice – a track that hears The Game fire off a few choice words in the direction of OJ Simpson – seem incomplete for an album. Spitting over some familiar beats in Ice-T's Colors, The D.O.C.'s It's Funky Enough, and The Message by Grandmaster Flash & The Furious Five, the lack of originality beat-wise feels lost on an album designed to hit listeners hard with a polished end product. There's nothing wrong with what The Game is laying down on the records themselves, they just sound like unfinished freestyles that would be better suited to one of The Game's many mixtapes.
The Game has always let it be known that he's a student of hip-hop. He loves the classics. On Nas' Hustlers he said: "1995, eleven years from today/ I'm in the record shop with choices to make/ Illmatic on the top shelf, The Chronic on the left, homie/ Wanna cop both but only got a 20 on me/ So fuck it, I stole both, spent the 20 on a dub sack." With that said, 1992 was a beautiful year in hip-hop. With tracks such as They Reminisce Over You (T.R.O.Y.), They Want EFX, Rebirth of Slick (Cool Like Dat), Passin' Me By, Nuthin' But A "G" Thang, Hood Took Me Under, and so many more, The Game grew up on a healthy diet of some of the best music to come out of hip-hop.
Wu-Tang Clan also released one of 1992's greatest tracks in the shape of Protect Ya Neck. Going on to be the biggest thing the genre had ever seen, The Game pays homage to the iconic group on a track titled I Grew Up On Wu-Tang. Using samples from CREAM, The Game details his love for the Staten Island legends and his early run ins with their music. "Six years passed now I'm banging in the county/ Niggas that used to talk shit won't even come around me/ Reciting Method Man while my celly just sit there/ Niggas know I been on the Wu before Ric Flair/ Came home through the hood, GX shining/ Now these bitches think I'm Lex Diamonds."
A lyrical tough guy who this time around gives you some insight into what his upbringing looked, The Game continues to come with some of the hardest bars on wax. While at times 1992 stumbles simply due to a few tracks feeling like they would be better suited to a mixtape, the Compton rapper still manages to do enough to keep listeners engaged and his name relevant 11 years after his debut album. 1992 was a great year for hip-hop, and it's also a pretty good album.
---
Will Lavin is a hip-hop music and lifestyle Specialist of 10 years. A 2015 IMC Award winner, he's written for publications such as VIBE, XXL, Complex and Blues & Soul. He's worked with artists such as Chaka Khan, Timbaland, will.i.am. and Chris Brown. He also runs illwill.co.uk.
---