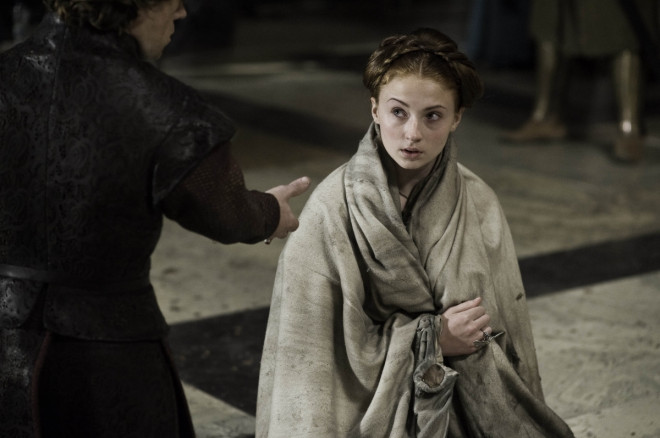 Many actors have to toil for years before getting the role of a lifetime, but British actress Sophie Turner was one of the lucky ones.
Her first screen role came at the age of 14 when she won the part of Sansa Stark in HBO's monumental hit fantasy TV series Game of Thrones. It's a role she has grown up with and one she returns to as the show enters its fourth season.
In a recent interview she talked of the forthcoming episodes and who she thinks deserves to sit atop the Iron Throne most. Maybe out of some allegiance she believes her on-screen husband Tyrion Lannister should be king.
"He'll probably be the best ruler," she said. Turner went on to talk of her hopes for her character's marriage last season to Tyrion [Peter Dinklage], the elder uncle of King Joffrey, the "man" responsible for her father's decapitation and the one she despises most of all.
"I hope towards the end of the season or the beginning of the next, their marriage will thrive," she said.
On Season Four the young actress, now 18, said her character will become a "fan favourite". "I think she's going to become the character that you will really root for."
"She's very good at hiding her true feelings and thoughts," she said. "I think she's strong — if not the strongest — in the show, obviously not physically, but mentally."
For such a relatively inexperienced actress the gruelling shoot in the depths of an Irish winter can be especially tough. "My pick up at five o'clock, and [I then] get my hair and make-up done for two hours, and the rest of my day is on set."
"I used to be so nervous during every take, because it was my first job, I had no idea what I was doing," she continued. "Lena [Headey] taught me not to get too anxious about the whole thing."
She finds enjoyment where she can however.
"I love my violence scenes, they are the best scenes to shoot, so much fun."
Game of Thrones returns on 7 April. It will be shown at 2am to coincide exactly with the US and then again on Monday evenings at 9pm.