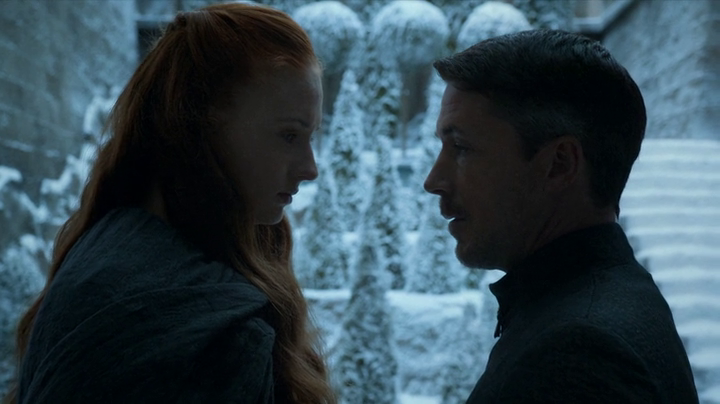 Game of Thrones Season 5 will hit the small screen next year but spoilers keep coming in to entertain fans of the fantasy series.
During an interview with The Wrap, Sophie Turner (Sansa) revealed a major spoiler about how her character will evolve in the upcoming season of HBO's blockbuster fantasy series.
In Season 4, Sansa, the naive daughter of Ned Stark, was seen murdering king Joffery by poisoning his drink and later joining Lord Baelish (Littlefinger).
But by the end of the series she evolves into a real manipulator learning how to play the game and control Littlefinger.
"Now she's kind of in the position where Baelish isn't overly sure what Sansa is about. He doesn't know why she stuck up for him, but he's kind of realizing that she's a great manipulator. She's not this vulnerable young girl anymore," Turner said during the interview at Comic Con.
"She's also realized that she can manipulate him through other means. Now she realizes his weakness is her and her mother, she's going to try to play out her sexuality as much as she can to manipulate him," Turner added.
During the San Diego Comic Con 2014, the show's panel introduced the major characters from the House Martell.
According to George R R Martin's 'A Song of Ice and Fire' novel series, the Sand Snakes are the eight daughters of the late Prince Oberyn Martell (Pedro Pascal).
The upcoming season of HBO's fantasy series will introduce the family members of Oberyn, who died at the hands of the Mountain.
According to the Hollywood Reporter, Alexander Siddig will play Doran Martell, prince Oberyn's elder brother and the lord of Drone. Keisha Castle-Hughes will play Obara Sand, the illegitimate daughter of Oberyn.