Game of Thrones fans might want to shield their eyes as heart-throb actor Kit Harington confirms that his character, Jon Snow, will 'return' to our screens in the highly-anticipated forthcoming Season 6. The TV star appears on The Jonathan Ross Show on 2 April to reveal more on his character's return and the truth about his playing dead.
Harington, 29, will no doubt break hearts when he tells Ross that he returned to the hit show to shoot scenes lying face down in snow. He also stands firm when the talk-show host prods him about keeping secrets about the fantasy drama, saying: "I am no longer involved in the show, so any secrets that are with the show, I don't actually know anymore, so it becomes very easy, Jonathan."
"You're looking at me like you don't believe me. It's going to be so relieving when people actually see the show and realise that I don't come back," he added.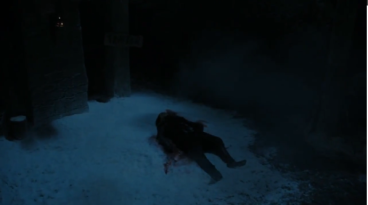 Explaining his trips to Belfast where he was spotted by viewers, Harington explained: "I was there for a bit – I was there for about a month or two months. It was spread over a bit, and I was playing a corpse.
"I won't tell you how many episodes I'm lying dead... but it's going to be so satisfying when you see it and you realise that I was telling the truth the whole time."
Harington has been teasing fans about the state of Snow's wellbeing in the forthcoming season when he told Time Out London: "I know how long I'm a corpse for, but I can't tell you that!" implying his character might come back from the dead.
His co-star Ian McShane also confused matters when he talked about his return to the show on BBC Breakfast. He said: "I can give you one hint: My character is an ex-warrior who's become a peacenik... I bring back a much-loved character everybody thinks is dead," making fans think he was referring to Snow.
The Jonathan Ross Show airs on 2 April at 9.35pm on ITV, and Game of Thrones will return to Sky Atlantic in the UK on Monday 25 April at 2am, to coincide with its premiere in the US.
Watch the Game of Thrones Season 6 trailer below.