Game of Thrones unaired episodes leaked by HBO hackers, company emails 'hijacked'
HBO revealed the FBI and cybersecurity firm Mandiant are now investigating the leak.
Under the banner "HBO is falling" an unknown hacker has published links to what purports to be information about unaired episodes of Game of Thrones online. The website hosting the content, branded as "WinterLeak", also includes multiple episodes of Ballers and Room 104.
On 31 July, the network confirmed it had been the victim of a cyberattack, with the hacker claiming to have stolen a massive 1.5 terabytes of data. As noted by The Hollywood Reporter, which broke the story, that's seven times the size of the infamous Sony Pictures attack in 2014.
"This is official website for covering HBO leak news," a statement on the hackers' homepage read.
"In a complicate (sic) operation, we successfully penetrated into the HBO internal network, emails, technical platforms, and database and got precious and confidential stuff."
The hacker, whose identity remains a mystery, called the incident "the greatest leak of cyber space era" and promised more content would be published soon.
The WinterLeak website is also hosting the first two episodes of upcoming HBO comedy series Barry, starring Bill Hader and set to air next year.
According to the BBC, the leaked Game of Thrones content includes "scripts and summaries" for episodes three and four of the ongoing seventh season.

Insiders said the cyberattack was "sophisticated", according to The Hollywood Reporter, which also reported that the FBI had been called to investigate further. There has been no ransom demands to date, unlike recent attacks on Netflix by a hacker using the pseudonym 'The Dark Overlord".
On 2 August, Hack Read reported that a file on the WinterLeak website called "Viviane Passwords" contained data that may be associated to HBO's vice president of legal affairs Viviane Eisenberg. It allegedly had credentials for social media, banking, email accounts and news websites.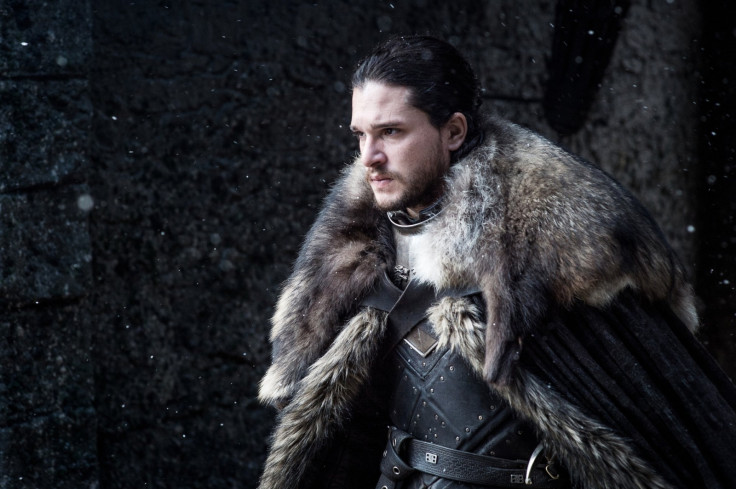 "At 1.5 terabytes, it could be a whole block of TV, or worse, it could be emails, financial documents, employee or customer information," says Erik Rasmussen, a former special agent with the Secret Service who now works at US cybersecurity firm Kroll, told The Hollywood Reporter.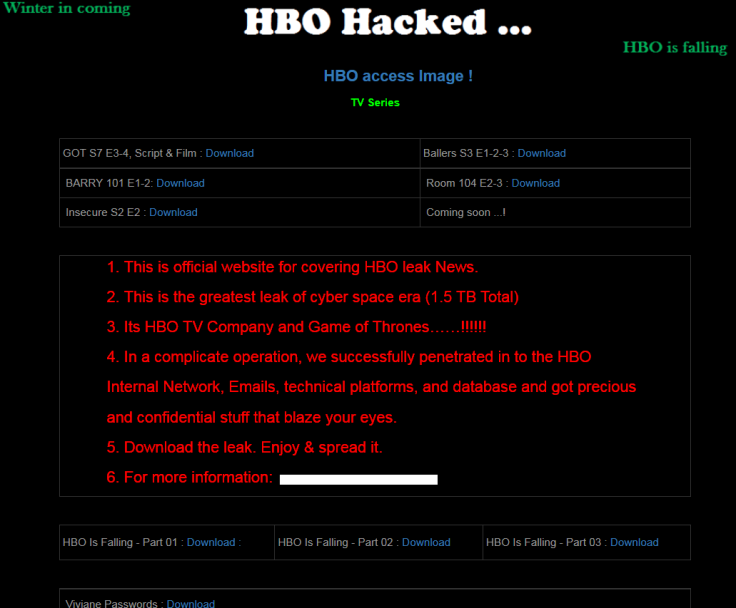 Website hosting data including alleged Game of Thrones episodes
Screenshot/IBTimes UK
"The fact that you have law enforcement and a [cybersecurity] firm involved most likely means this will be a very large incident for HBO," he added, referencing the involvement of Mandiant, a security company which recently faced its own hacking woes.
HBO's chief executive Richard Plepler has remained open about the incident.
In an email sent to staff, he confirmed there had been a "cyber incident" directed at the company. He wrote: "Any intrusion of this nature is obviously disruptive, unsettling, and disturbing for all of us.
"I can assure you that our senior leadership and our extraordinary technology team, along with outside experts, are working round the clock to protect our collective interests. The problem before us is unfortunately all too familiar in the world we now find ourselves a part of."
The WinterLeak website contains numerous references to Game of Thrones, undoubtedly one of HBO's biggest properties. It remains to be seen what the alleged hacker will release in the near future, however, after teasing emails and company data the leaks may only be beginning.
© Copyright IBTimes 2023. All rights reserved.