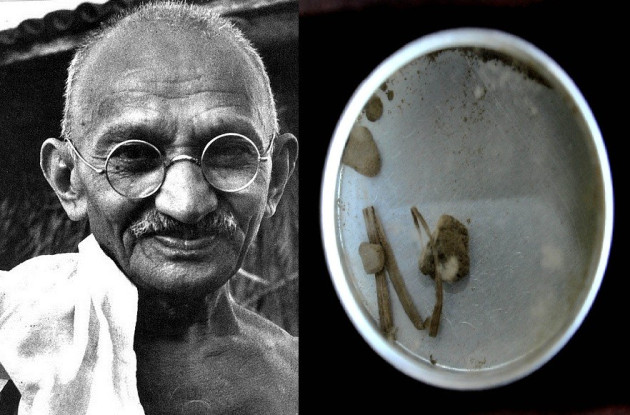 Soil containing a drop of Mahatma Gandhi's blood is expected to sell at auction for up to £15,000.
The soil, collected from the spot where Gandhi was shot on 30 January, 1948, will be sold at an auction of historical items at Mullock's auctioneers in Shropshire.
The item, which many bidders consider sacred, is expected to sell for between £10,000 and £15,000, although a Mullock's representative claimed it was "incredibly difficult to value".
The lot comprises a small wooden casket containing a glass-topped box holding soil and a few blades of grass taken from the spot where Gandhi was shot three times at point blank range by Nathuram Godse in Delhi.
It comes with a letter of provenance and a small memoir by PP Nambiar, a man who was standing nearby when the assassination happened.
Nambiar's writing recounts the moments immediately after the shooting: "In my search I found a drop of blood on the grass almost dried. I cut the grass and also took two pinches of soil from the brink of the pothole which I wrapped in a piece of Hindi newspaper found nearby. This is in my box even today. I keep it in a jewellery box brought by me from Indochina in a later year. To me it is a treasure of immense sentimental value."
"There's been a huge amount of interest in the item," said Richard Westwood-Brookes, historical document specialist for Mullocks. "The majority of interest has come from India, where followers of Gandhi regard this as a sacred relic.
"This is a piece of history and therefore it is incredibly difficult to value. If you are a Gandhi follower and believe its provenance then you are likely to consider it priceless.
"With an item like this I always think people regard it as either priceless or worthless. Which it proves to be is in the lap of the gods."
Also included in the auction is a pair of Gandhi's spectacles, which are of the familiar steel-rimmed type. They are expected to raise upwards of £10,000.