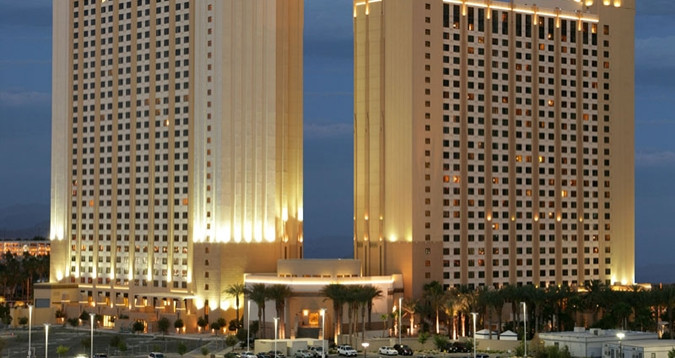 A shootout by gunmen outside the Hilton Grand Vacations Club hotel in Las Vegas has left one man dead and another victim injured. Terrified tourists scattered and ran for their lives on Las Vegas Boulevard during the gun battle.
One of the victims staggered into the lobby of the Hilton hotel after receiving a gunshot wound and collapsed, with horrified eyewitnesses reported seeing blood. The man was rushed to University Medical Centre Trauma for treatment but was pronounced dead.
According to Lt. Calhoun, officers responded to reports of a violent incident. Two men involved were shooting at each other when one was hit by a bullet in the hotel's valet area. It's believed they were both staying at the hotel.
Another man also shot in the altercation was "dumped" out of a "luxury car". He was taken to Sunrise Hospital and has undergone surgery, and is "definitely alive" say police.
Police presence was heavy in the area after the incident as an investigation is underway to find witnesses and find out what happened, according to Fox5.
At a press conference, police told journalists that the shootout which occurred at around 9pm local time (5am UK time) on Sunday 7 May, was "gang-related" and are reviewing video footage from the scene.
Metropolitan Police Department Lt. Dan McGrath said one man drove his car around the valet areas, got out of his vehicle and started firing. The other man who was shot returned fire, and fatally wounded the first shooter, according to the Las Vegas Review Journal.
The girlfriend of the dead man is talking to police, McGrath added, and the gang unit are believed to be at the scene.
In a bid to address the problem of gang violence in Las Vegas, Clark County Sheriff Joseph Lombardo announced Tuesday the re-implementation of a Metro Police Gangs/Vice Bureau.
"While cities across the nation are also experiencing increases in violence, a common belief is the incidents are driven by gangs and guns in communities," according to his statement. "In evaluating the successes and shortcomings of (Metro Police) over the last year, talking with those in the organisation, as well as community stakeholders, the overwhelming message is to focus on the issues that appear to be behind most of the violent crime. These issues come down to gangs and vice."