Las Vegas strip closed as gunman opens fire on bus, killing person one and injuring another
Police believe the suspect had mental health issues.
One person has died and another was hurt after a gunman started "shooting indiscriminately" on top of a Las Vegas bus. After a tense four hour standoff with officers, the suspect surrendered and was arrested.
Police said the man, who was local and in his 50s, was riding the bus when "all of a sudden" he started shooting at other passengers with a handgun.
Assistant Sheriff Tom Roberts told reporters: "He was on the second floor — it's a two-story bus, he's on the second floor at the rear of the bus — and he just started shooting indiscriminately," Roberts said.
Two passengers were hit as the rest fled, one later died. The other remains in hospital with minor injuries.
The gunman also reportedly discharged his weapon while negotiations took place, but no one else was hurt and police did not shoot back. A SWAT team used an explosive device to break the windows of the bus during the negotiations to ensure the suspect was still inside.
Police believe the suspect could have mental health issues. "We found that very evident when we talked to him. From listening to the negotiations he seemed to be talking about seeing people and things like that," Sheriff Roberts said, according to NBC.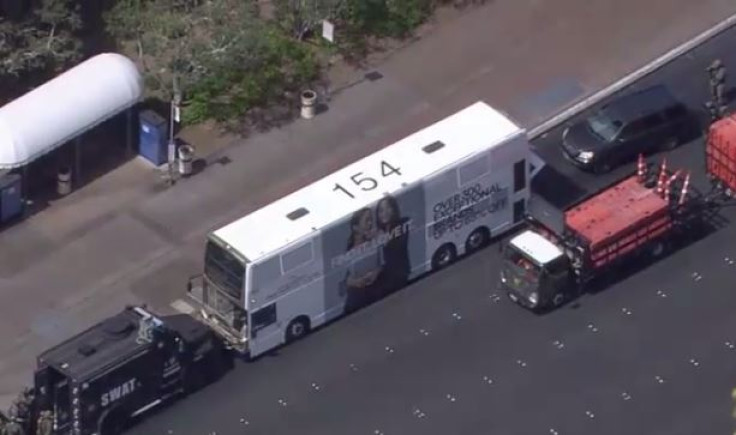 The incident caused part of the iconic Las Vegas strip to be shut down as officers dealt with the situation, but was later reopened.
The shooting is not believed to be terrorist related or connected to a recent armed robbery at a jewellery store, which took place elsewhere in Las Vegas. The attempted theft at the Bellagio hotel sent guests fleeing as gunmen, including one in a pig mask, opened fire, sparking fears of an 'active shooter'.
© Copyright IBTimes 2023. All rights reserved.