A gang who were able to steal a motorcycle in less than 10 seconds has been banned from touching any vehicle in West Yorkshire as part of a major crackdown on motorbike theft and related anti-social behaviour.
Five men and six youths were identified as being linked to a string of motor vehicle thefts across Leeds and had perfected the craft so much they could steal one in a matter of 10 seconds.
Once the bikes were stolen, they were either stripped down and sold, or used in crime before being passed on to youths to ride through the Seacroft estate.
Following an investigation into the crime spree, gang ringleader Jordan Bodally, 19, of Mardale Crescent, Seacroft, was convicted of a number of offences and given a custodial sentence in July.
Bodally and other members of the gang were also subjected to a five-year Criminal Behaviour Order that bans them from Leeds city centre, associating with each other, from having bolt croppers or angle grinders in public and from touching any vehicle without the express permission of the owner, registered keeper or person lawfully in charge.
Joseph Thrush, 19, of Barncroft Drive; Macauley Nay, 19, of Dufton Approach; Adam Birkett, 21, of Moresdale Lane; and Jack O'Gorman, 19, of Dufton Approach, were also given the banning order after police "painstakingly" gathered evidence against them.
Similar orders have also been secured against six other youths who cannot be named for legal reasons.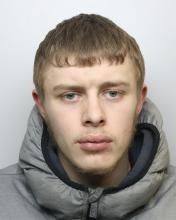 Chief Inspector Nick Ireland, of Safer Leeds, said: "This gang was behind a significant upsurge in the theft of motorbikes, which not only had a real impact on the lives of the victims of those thefts but also on people's lives in the communities where these bikes were ridden dangerously and anti-socially.
"The problem was so bad that we saw a flood of complaints with people understandably suggesting it was only a matter of time before someone was killed or seriously injured.
"This innovative use of civil injunctions through joint work by the Operation Leodis and Operation Badgeland teams means we now have additional measures in place to control the behaviour of these individuals and tackle the source of the problem.
Councillor Debra Coupar, Leeds City Council's executive member with responsibility for Safer Leeds, added: "The way in which these individuals were riding motorbikes in areas of east Leeds was both reckless and extremely dangerous and put the personal safety of both motorists and pedestrians at risk.
"We simply will not accept this type of anti-social behaviour in our communities and I am pleased that working with the police we have secured these orders against the perpetrators. I hope this ruling sends out a clear warning to others thinking of taking part in this type of activity that it will not be ignored and they will face similar action being taken against them through the courts."