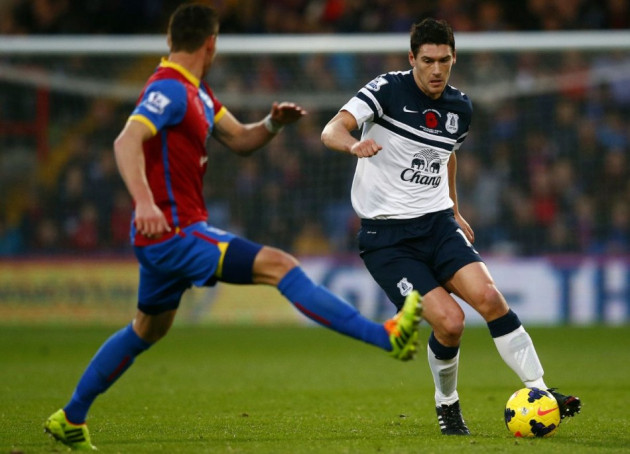 Gareth Barry has revealed that he was close to joining Liverpool, before Manchester City signed him from Aston Villa in 2009.
The England midfielder admitted that he had informed the former Villa boss Martin O'Neill his desire to leave Villa Park. Barry was believed to be a replacement for Liverpool midfielder Xabi Alonso, who was close to joining Real Madrid.
The Reds' fans believed that possible arrival of Barry was forcing Alonso out of Anfield. The club's supports started hurling abuses on the midfielder even before he was signed. In addition to this, the 32-year-old claimed Rafael Benitez, Liverpool's manager in 2009 did not stump up the transfer fee.
"I was very, very close to joining Liverpool. I had told [former Villa boss] Martin O'Neill I wanted to leave but ultimately they didn't stump up the fee," Barry explained.
"The big thing with the Liverpool fans was that it looked like one of their favourites was leaving, in Alonso, and they looked at me as the reason for it. That's fans I suppose, the fans heard he was leaving, I was coming in and put two and two together.
"I still remember watching a pre-season friendly and they made it obvious they weren't keen on me coming in to replace him! He was a fantastic player and I can understand it," he added.
Barry was the first team regular for City under Roberto Mancini, but failed to be a part of Manuel Pellegrini's plan at the Etihad. The midfielder is now on a season-long loan to Everton and started during Everton's 3-3 draw at home to Liverpool.
The former Villa star was keen on featuring in the Champions League and a move to Liverpool could have seen him play for the Reds in Europe's elite club competition few years ago. However, the deal did not take shape as he signed for City in the summer of 2009.
Meanwhile, Benitez opted to sign Robbie Keane from Tottenham, who returned to White Hart Lane after spending six months at Anfield.
"No-one knows what that move could have done for me, whether it would have been good for me and Liverpool, but there was nothing I could have done about it," the England midfielder said.
"But at the time they were in the Champions League regularly. I'd had a long spell at Villa and not experienced that. They were the only club showing an interest and I felt it would've been good for me, but in the end they chose to spend their money on Robbie Keane."